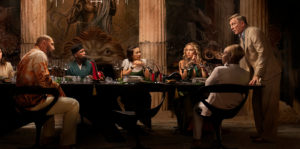 NOW ON NETFLIX! Benoit Blanc returns to the big screen… small screen in writer-director Rian Johnson's Glass Onion: A Knives Out Mystery. Yeah, I know, Last Jedi, blah, blah, blah.
The story revolves around a Steve Jobs-type billionaire named Miles Bron (Edward Norton). Every year, he invites his closest college friends to his private mansion, the Glass Onion, on a secluded island in Greece for a meticulously-planned decadent murder-mystery weekend. These friends are fashion icon Birdie Jay (Kate Hudson), social media influencer and men's rights activist Duke Cody (Dave Bautista), scientist Lionel Toussaint (Leslie Odom Jr.), mom-turned-politician Claire Debella (Kathryn Hahn), and Miles' former ousted partner Andi Brand (Janelle Monáe). There are also a few outsiders joining the fun, Birdie's personal assistant Peg (Jessica Henwick), Duke's girlfriend Whiskey (Madelyn Cline), and world-renowned detective Benoit Blanc (Daniel Craig).
The first act of Glass Onion: A Knives Out Mystery is all about introductions. Miles is about to unleash a crystalline source of energy upon the world that you can literally hold in your hand. He calls it Klear, which will make him the most powerful man in the world. It's potentially the answer to the world's energy and climate crises. The issue is no one knows how unstable it is, and Miles is using his friends to cover up Klear's PR and regulatory problems and bring this energy to the stage. Lionel is the most reticent about Klear's safety concerns, but Miles has some blackmail information on him and everyone else as well. But we're here for the murder mystery weekend. That is until one of our lead characters is actually murdered, and it's up to Benoit Blanc to root out the killer.
There's a lot more to this film, but you know, spoilers. The tone is set as a light murder mystery comedy, which falls right into my genre wheelhouse. For what it is, I had a lot of fun, and I laughed often. What Johnson does so well is create a group of diverse (personality-wise) larger-than-life characters and have them go at each other in fun and intriguing ways. At the start, we like some and don't like others, and then their true natures are exposed, and who we like switches up.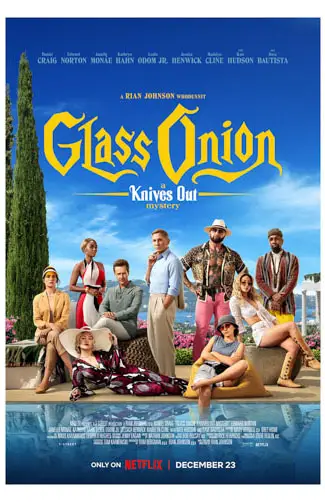 "…I laughed, had a good time, and can't wait to watch it again."