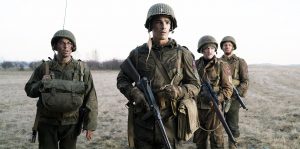 Who would've thought a film could somehow mix the desolate battlefields of WWII with a spooky French mansion? Eric Bress, the writer-director of The Butterfly Effect, has brought us a new mind-twisting thriller, this time under the guise of a WWII/haunted house film. Ghosts of War throws us into Nazi-occupied France with a five-man team. They are on a mission to guard a house once owned by a French family killed by the Nazis.
Chris (Brenton Thwaites), Kirk (Theo Rossi), Tappert (Kyle Gallner), Eugene (Skylar Astin), and Butchie (Alan Ritchson) are all exhausted by the fights they've already had and are wishing for a respite in the giant mansion when they get there. Instead, they get a lot more than they bargained for, with the house being haunted by the spirits of its former inhabitants, the Helwigs. The men try their best to figure out how to stop the spirits from their antics, but a force that none of them could have ever imagined is behind it all.
Ghosts of War is the brainchild of Bress, if you've seen any of his other material, be it Butterfly Effect or one of the Final Destination movies, you should expect your expectations of the film to be thrown out the window. Go in with none, and you will be pleasantly surprised. The genre-flipping film bounces from war movie to haunted house movie to a sci-fi movie at the snap of a finger.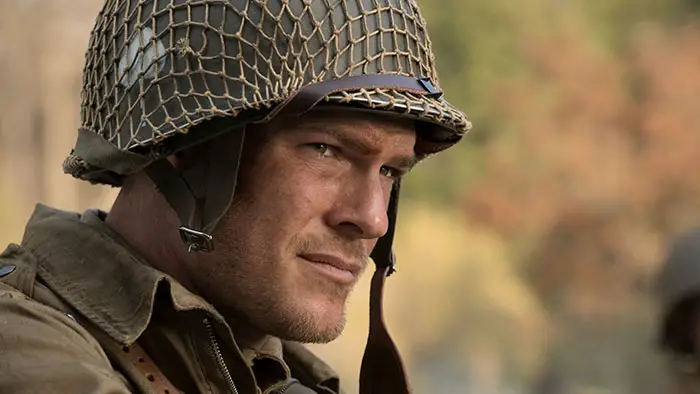 "…a force that none of them could have ever imagined is behind it all."
What really holds the film together are the performances. The five actors who make up the ensemble of soldiers offer us a compelling narrative. Each of the five is necessary to the operation, and we find ourselves caring about each of them individually. I found myself especially captivated by Kyle Gallner's portrayal of Tappert, a gold-tooth snatching Southern weirdo. He's one of my favorite up and coming actors in the independent film community. Billy Zane's cameo in the movie as a German soldier and….someone else…is worth the price of admission alone if you are a fan of Zane, which I certainly am one.
If you don't like movies with a twist, first of all, you're boring, and secondly, you may want to stay away from Ghosts of War. It is a roller-coaster of a movie that throws you all over the place in a good way. I'm thankful that the film is split across so many genres because each category houses hundreds, if not thousands of titles. Combining several kinds of movies together makes for something much more unique and satisfying to watch. It thoroughly explores each of the genres it pays homage to, and there are Easter eggs all over the place.
It's a film that begs a second viewing, which is a rarity in these days of seemingly disposal "content." With excellent production design by Antonello Rubino and an insane script by Bress, you are transported to the French countryside of WWII. Bress has outdone himself yet again with Ghosts of War, and I'm excited for all of you to see it.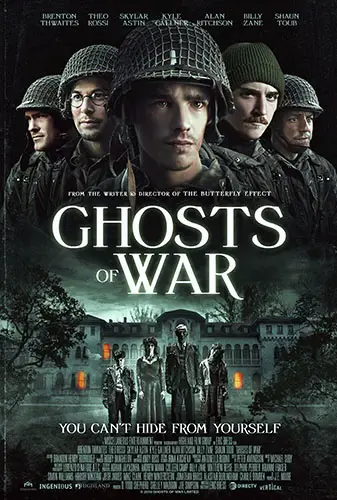 "…a force that none of them could have ever imagined is behind it all."