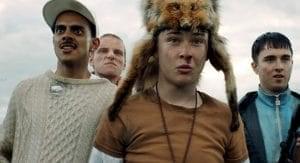 Thanks to Doff's witty script, the characters, who at first glance are stereotypes, emerge as fully formed, empathetic humans. When the core trio admits to Ian that they only become "such good mates" because they are shunned at school, it is a tender moment. The dialogue here not only ensures Ian's place amongst them but also shows that the "hooligans" are much more reflective and in tune with whom they are than given credit for.
There are a lot of jokes, gags, and scenes I haven't even hinted at yet. There is a hilarious moment involving the van that drove the characters to the start of the Duke of Edinburgh Award trail, whose punchline you wait for but is so astoundingly brilliant and well-executed it is unbelievable. Moreover, wait until you see everyone tripping balls; you will not stop laughing.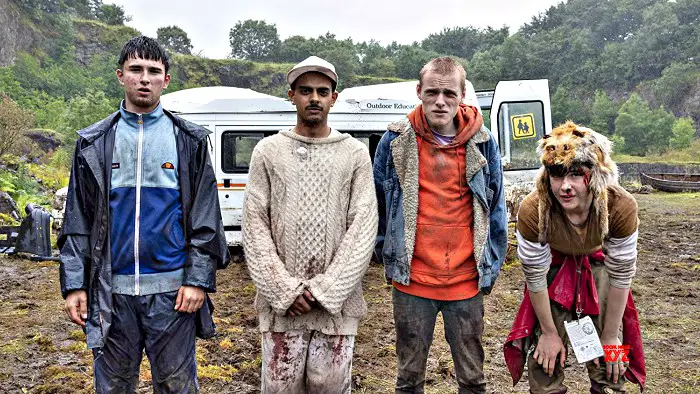 "The greatest strength of Get Duked! is its cast…"
The greatest strength of Get Duked! is its cast; given how impeccably written and assuredly directed the film is, that is saying quite a lot. Juneja's musings about if his DJ name is good or not are hysterical, but when he quips that it took him forever to come with his current alter ego, it's heartbreaking. The actor sells the idea that everything in a teenager's life is a huge deal, including his stage name, and it's incredible to watch. As Duncan, Lewis Gribben makes many small physical gestures that capture the affable cluelessness of the character perfectly and generates huge laughs.
Samuel Bottomley's turn from timid to rallying cry leader near the end of the film is realized so authentically he's the film's heart. Rian Gordon's character has already determined his future, to be a fish packer, like his father and older brother. As the film progresses, his true aspirations come to light, and the confidence Gordon projects during this are sublime. Izzard and Glen are having a ball as the insane killers, and their lamenting that they have become old is oddly sweet turn.
Get Duked! heralds the emergence of a bold, exciting new director in the film world. Ninian Doff balances tones amazingly and directs visually striking scenes with gusto and confidence. His writing subverts expectations while remembering to tell a relatable story while being an exciting, nonstop laugh riot. All that makes the film more than worth watching. Then you add this truly outstanding cast who effortlessly embody their characters, and you have nothing short of a masterpiece.
Get Duked! screened at the 2019 SXSW Film Festival as Boyz In The Wood.
"…nothing short of a masterpiece."