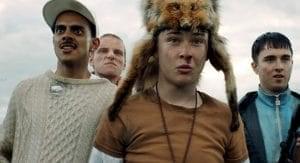 NEW TO AMAZON PRIME! There is a long, proud history of adventure stories that send their young heroes on an expedition in which they must fend for themselves. The Goonies or Stand By Me are classics in this subset of coming of age stories. Music video director Ninian Doff (responsible for a few of Miike Snow's best videos) uses these tropes and beloved movies as a springboard for his feature-length debut, Get Duked! (aka Boyz In The Wood).
Starting with a fake ad for the entirely real Duke of Edinburgh Award, this 1950s style promo informs the audience of the grueling camping trek that the group of four will endure. Troublemakers Duncan (Lewis Gribben), DJ Beatroot (Viraj Juneja), and Dean (Rian Gordon) are being forced to go on this multi-day hiking trip to "build character," or they'll face expulsion; given a choice, they'd rather be expelled.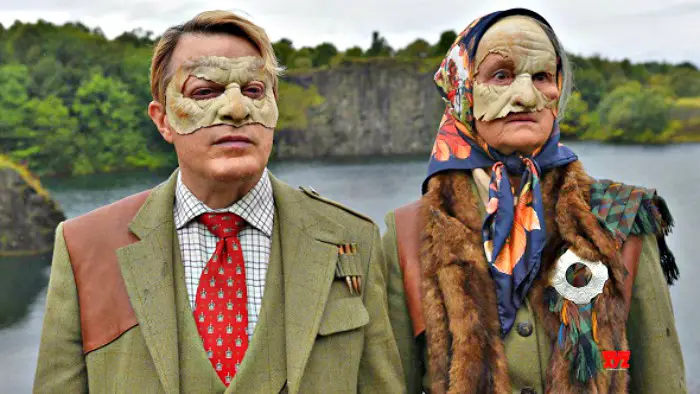 "Off the four teenagers go, only to discover that a mad duke and his deranged wife are hunting them."
At the start of the trail, the three friends and Ian (Samuel Bottomley), who is undertaking this adventure as it will look great on university transcripts, are given a map. Then their supervisor for the trip, Mr. Carlyle (Jonathan Aris), tells everyone the rules. Off the four teenagers go, only to discover that a mad duke (Eddie Izzard) and his deranged wife (Georgie Glen) are hunting them. With no survival skills to speak of and them being much more interested in getting high, it would appear the teens are doomed. Can they use their wits to survive the entire trail, stop from getting killed, and learn to get along?
What that plot description cannot get across is the kinetic style and absurd humor on full display every second of this 90-minute masterpiece. Mr. Carlyle takes roll call once at the start of the Duke of Edinburgh Award trail. As he calls out each person's name, Get Duked! uses quick edits, stills, and voiceover to give background and traits to each person. Ian is here as he is sheltered and has a hard time making friends. So his mom wrote to Mr. Carlyle to get him on this trip because it will look good to higher education institutions and because she wants him to make friends. All of this is told to the viewer in 30 seconds, maybe less, and is hilarious. Now imagine similar things for each of the main characters, as well as the ultimate reason the Duke and the Duchess, are trying to kill the kids.
Doff's considerable skills are also on display with the tone. Get Duked! is a comedy, through and through, but that does not mean the dangers present do not feel authentic. The villains are a credible threat, despite that the Duke is a terrible shot. An epic sequence, which is sublimely edited courtesy of Ninian Doff and Ross Hallard, highlights where the four teens currently are, as they got separated after being chased by the Duke and Duchess on horseback. Dean and Duncan are in a cave, DJ Beatroot is in a barn, and Ian is in an open field, with just a few ruins to hide behind. The tone for each location is wildly different- Ian's moments are fraught with intense peril, Dean and Duncan are desperate and trying to formulate a plan, while DJ Beatroot is literally partying. Doff brings each emotion to the forefront during a wild montage incorporating everyone. It is spellbinding and a marvelous display of exceptional craftsmanship.
"…nothing short of a masterpiece."