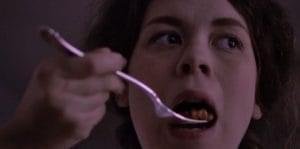 In an English seaside town in winter a young man screams out into the sea. His words are inaudible because he has no voice 'Gelateria' gives a form to his potent silence as a five-course meal including aperitif and deserts. Zbigniew is on a train heading to Zurich accompanied by his loveless partner and knows he has no choice but to jump off the train at the next stop. He then begins a journey to deal with the murky waters of his past and follow through with his deeply held psychological and artistic obsessions. The world he now finds himself passing through has other things in store for him.
Gelateria is a beautifully shot, weird, and truly hell-ride of a film. With every scene becoming more and more outlandish than the last while keeping a sense of profundity throughout. The film leaves viewers scrambling for their own interpretations of its meaning. Like abstract art, this film thrives in its varying scenes with different characters searching for a resolution. Stringing together an assortment of stories without much linking them together, Gelateria struggles narratively.
But for a film, as off the wall as this, a narrative is rarely the main concern. Gelateria is reminiscent of the psychological imagery of films like Darren Aronofsky's Requiem for a Dream. With personal camerawork seeming to slide in and between the realms of reality and a dreamlike world, you'll quickly find yourself trapped.
"…varying scenes with different characters searching for a resolution. Stringing together an assortment of stories…"
The actors handle their roles in the best way they can and seem to immerse themselves into the off the wall ideology. The feeling this film gave me during the entire experience felt more horror-like than anything, and that's what kept me attached. The uncertainty of what was happening and if these characters are trapped in this world left me unsettled. But, as I said, the confusion in the narrative, kept me trying to piece together what was really going on.
In a film, that's more visuals than story, there is some leeway in the composition, but overall, I felt lost. Whether that was due to my lack of understanding of the story, and it flew over my head, or if there truly never was a true plot, is beyond me. That, by itself, prevents me from recommending this film to any casual movie watcher.
Gelateria (2019) Directed by Arthur Patching, Christian Serritiello. Written by Arthur Patching, Christian Serritiello. Starring Tomas Spencer, Carrie Gelman, Jade Willis, Daniel Brunet, Christian Serritiello.
7 out of 10