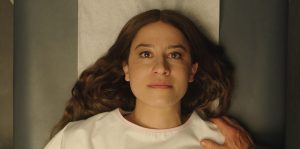 NEW TO HULU! Director John Lee's psychological thriller, False Positive, written by star Ilana Glazer, plays on the fears of a soon-to-be mother and the suspicious circumstances surrounding her unborn fetuses. Lucy (Glazer) is a successful account executive at a prestigious advertising firm. For years, she and her husband, Adrian (Justin Theroux), have wanted to have children. Finally, the opportunity presents itself when Adrian, a pediatrician, strikes a deal with a former med-school professor and infertility specialist, Dr. Hindle (Pierce Brosnan). Hindle offers to let Lucy be part of his mysterious yet highly successful fertility treatment.
Lucy agrees and is pregnant on their first attempt. In fact, she's pregnant with twins… nope, triplets. The problem is that the two boys are growing quite well, but the girl is not developing at the right pace. So, Dr. Hindle suggests Lucy abort the girl in favor of the strong boys. Of course, he says in his proper German accent alongside his two beautiful blond nurses, Dawn and Rita (Gretchen Mol and Sabina Gadecki). And it certainly seems Adrian is pushing a little too hard as well. But, Lucy has always wanted a daughter and already has a name for her.
Soon, everyone around her starts acting suspiciously. The doctor's creepy vibe spikes off the chart as he pushes for the abortion. As Lucy begins to investigate Dr. Hindle further, she decides to forgo his services and chooses a midwife, Grace Singleton (Zainab Jah), to assist in the birthing process. She soon starts having nightmarish visions about her unborn children, her husband's new partnership with Dr. Hindle, and the doctor's treatment and drugs he's been pumping into her.
"…offers to let Lucy be part of his mysterious yet highly successful fertility treatment."
To me, "creepy" is the primary theme of False Positive. The film and story are designed to make you feel ill-at-ease and off-balance until the end. You'll constantly be saying to yourself, "something's wrong here." Everything in Lucy's life during her pregnancy is off. The filmmakers relentlessly feed into that eerie tension.
I reviewed the movie on the Film Threat YouTube channel, where I gave it a tepid recommendation. I feel like the character of Lucy was more or less a victim of bad events. She was just being flung back and forth, never growing as a character. However, upon further examination, I think that this was the point of the story. That as Lucy's world was going against her, she shuts down, and boy, does she shut down at the end.
I will still give False Positive a tepid recommendation, but I know it doesn't matter what I think in this case. In the end, what you get is a film taking a pregnant woman down a slow descent into Hell. Glazer gives a restrained performance as Lucy. While the character requires restraint, I think it was a single notch in the wrong direction.
The ideas that Lee and Glazer are toying with I find fascinating. False Positive hits on several themes surrounding pregnancy—an "alien" body living inside you, the pressure to make the right choices about one's doctor and birthing methods, society's value of having children, and the connection or bond between mother and child. Though I may not have connected with the final product as intended, if the idea of a psychological thriller about pregnancy appeals to you, then the movie might be your cup of tea.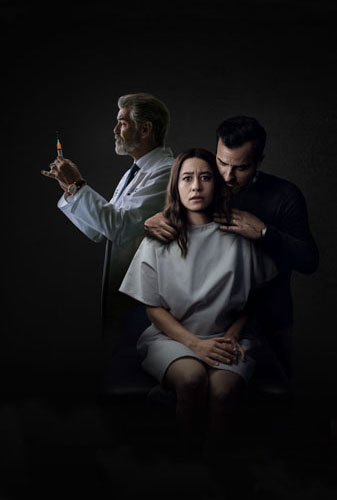 "…designed to make you feel ill-at-ease and off-balance..."