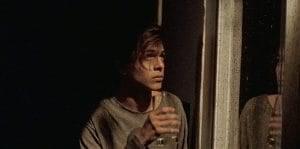 Short films often connect with audiences by taking a common experience and pulls the emotion of that experience out off the screen. As teen boys, we've all been there. While hanging out at the home of your best friend, you accidentally walk in on his mother masturbating in a bathtub. And your adolescent mind explodes. Right? Am I right?
In Evaporated (Evaporado), director Jimena Muhlia tells the story of Rafa (Sebastián Ávila Reyna), the aforementioned teen and his hormonal pursuit of best friend Tito's (Tomás García Agráz) mother Lucia (Nailea Norvind).
Fixated on his lustful desires of Lucia, Rafa starts to find excuses to hang out at Tito's house. In a single moment alone with Lucia, they engage in small talk about photography and Rafa offers to develop a roll of exposed film Lucia had taken. Cut to the darkroom, where Rafa discovers the roll contains photos of Lucia and Rafa's imagination runs wild into a single explosive moment.
"Fixated on his lustful desires of Lucia, Rafa starts to find excuses to hang out…"
The story ultimately takes us to its natural conclusion, when Tito's discovers Rafa's true feelings for his mother and confronts Rafa on a lonely road.
Evaporated takes big risks in story and execution. The best short films dare to tell bold stories and refuse to play it safe. Here what starts as an adolescent crush quickly escalates to a final passionate moment. There are plenty of "oh no" and "oh my God" moments sprinkled throughout.
Execution-wise Muhlia's short was shot on 16mm film. Like the vinyl vs. digital debate, Evaporated shines thanks to the imperfections and soft edges of film. Surely a perfect digital print would have hindered the impact of the final products.
As Rafa, Rayna captures the growing emotional intensity as a young teen controlled by his forbidden obsession. Best friend Tito and mother Lucia can only act as collateral damage.
Evaporated or "Evaporado" (2018) Written and directed by Jimena Muhlia. Starring Sebastián Ávila Reyna, Tomás García Agráz, and Nailea Norvind. Evaporated screened at the NewFilmmakers Los Angeles Film Festival highlighting Latinx and Hispanic filmmakers.
8 out of 10 stars