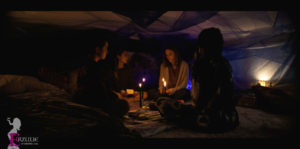 A Louisiana swamp drenched in stifling humidity and carnivorous mosquitos may not be the most traditional setting for a group of girlfriends seeking to stick it to the patriarchy. But, in director/co-writer Christine Chen's campy creature feature Erzulie it serves as good a place as any. There's been no shortage of recent narratives capitalizing on the shift in gender norms in genre films, but any that involves toxic water and mermaids is worthy of our attention.
In the film, co-written by Camille Gladney, we follow four close friends seeking a temporary escape from their lives as each has suffered varying degrees of personal trauma. Fay (Zoe Graham) is recovering from a relationship with a controlling abuser. Wendy (Courtney Oliviér) has been recently informed that the women's shelter she works at is letting her go, so she arranged this get-together with the ulterior motive of summoning the titular Erzulie, a mermaid deity of sorts sworn to protect women. Accompanying Fay and Wendy are the spunky Violet (Elizbeth Trieu) and tough-as-nails Ari (Diana Rose).
Setting off our internal alarms from the get-go is the resort's manager, played by experienced character actor Jason Kirkpatrick. Engaged in some sort of illicit activity that is causing toxic waste to be dumped into the swamp, he warns the girls that the water is off-limits for the entirety of their stay. Warnings in films like this are never heeded, though, and what follows is a thrilling indie romp through the bayou, which blends elements of slasher and horror films.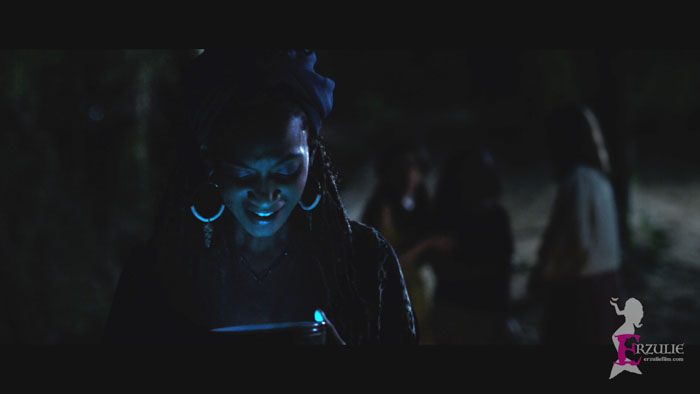 "…four close friends seeking a temporary escape from their lives as each has suffered varying degrees of personal trauma."
The ensemble cast at the heart of Erzulie works well in their roles, with Graham's performance containing a wider range than one would expect in a creature feature. Kirkpatrick is also quite at home in the role of a sleazy property manager – so much so that it's hard not to wish he was given more nuance (and screen time). Leila Anastasia Scott is intensely committed to the role of the mermaid, and Chen wisely embraces practical effects over CGI during the more supernatural sequences.
Considering that the film clocks in at under 90 minutes, it's safe to say that too many threads are introduced that aren't given the narrative space to develop adequately. For example, a secondary character played by Patrick Grover is set up early in the film to play an important role. But he's ultimately underutilized and quickly forgotten before he briefly reappears later. The subplot involving the toxic waste in the water is also a missed opportunity for increased exploration. Finally, the film would have flowed together more organically had some of the baby fat been excised.
On the whole, though, it's hard not to walk out of Erzulie without having a good time. If seeing crappy men being torn to shreds by an otherworldly mermaid isn't your idea of fun, then you're definitely in the wrong place. For the rest of us, though, this is a unique celebration of Girl Power overcoming toxic masculinity in a swamp. That's a sentence I never expected to write but am happy I did.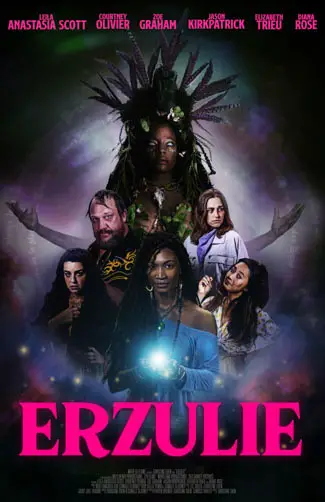 "…a thrilling indie romp..."