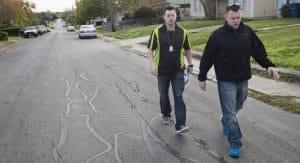 As of February 27, 2019, there have been 162 people shot and killed by police. If rounding, that averages out to roughly three people per day for the first two months of the year. This statistic includes shootings that would be considered justified, for lack of a better word. However, a good number of these police killings made headlines for all the wrong reasons. Is it any wonder then that distrust between citizens of a community and local law enforcement seems to be at an all-time high?
Happily, there are people in uniform that want to change the perception and prove they are here to help their towns the best way they know how. The inspiring documentary Ernie And Joe follows the titular San Antonio cops as they work on the mental health unit of their precinct. You read that correctly- the mental health unit; which plans to expand to 20 officers within 2019.
Officers Ernest "Ernie" Stevens and Joe Smarro are partners on the SAPD Mental Health Unit, and the movie follows them while they are out on patrol. As their job titles infer, the calls they respond have to do with people displaying or known to have mental health issues. Their first onscreen call is for a man disrupting a courtroom. The man is not yelling when the duo arrives, but he is standing in the middle of the room making it hard for the others there to go about their business.
"…San Antonio cops as they work on the mental health unit. That's right—the mental health unit…"
Stevens and Smarro, wearing polo shirts and jeans to make those around them feel more at ease, walk in and calmly talk to the person. The man talks about how he cannot move from this parking lot and that he doesn't feel safe there. After putting him at ease and getting him to discuss former drug use (though he is not currently on anything), the officers get him to leave the courtroom with them.
This does not mean the person is under arrest. Rather, the officers of the Mental Health Unit and the local mental health facilities collaborate and, if their current charge agrees, is taken to one of the facilities. Director Jenifer McShane and her crew simply follow these two officers day- in and day-out, observing what they do and how. Of course, they are interviewed about how they got on this particular unit and about their partnerships. Plus, bits and pieces of their personal lives seep through such as divorce, money woes, and college aspirations, so the audience can understand what these two are going through. This is integral to getting into their headspace as the partners go out on patrol and relate to the folks from all walks of life they encounter.
To be perfectly honest, as a movie Ernie And Joe is a somewhat routine affair. Follow subjects, interview subjects, point, shoot, move on. And most of the time that would be a problem, creating a lack of engagement or energy. However, McShane is intelligent enough to realize that trying to add pizazz to what is being portrayed here, especially in this particular climate of police relations with citizens, would ring hollow. The likable Ernie and Joe and their SAPD unit's selfless mission are observed closely and watching these men and women work to de-escalate situations and try to find the right treatment for someone is captivating.
"…in one long unbroken sequence, they get to know her name, why she wants to do this, and most importantly, they win her trust."
While out on a late night patrol, Officers Stevens and Smarro are called to a bridge to talk a lady down from jumping. They arrive to find Kendra seemingly at the end of the rope. Employing the dashcam footage from the patrol car, in one long unbroken sequence, they get to know her name, why she wants to do this, and most importantly, they win her trust. Six weeks later, they check in on Kendra and her case manager Amanda Miller. Kendra is currently doing well and is going to start working soon.
There are genuine power and emotional resonance in seeing the depths of the officers' care for those in need of help and discovering that the unit's members keep up with those that they've helped. Of course, this is real life, so not all stories wind up as happy. We witness an encounter with a young man with a gun get talked down and taken to get help, only for members of the mental health unit to be unable make any contact with him after the fact.
Ernie And Joe struck a deeply personal core with me, as I am sure it will with most audience members. The titular partners are exemplary cops and care for everyone, which gives hope to their uplifting story offers hope. Hope not just for police officers all over the country but for a better understanding and more humane approach to mental health by society as a whole.
Ernie And Joe (2019) Directed by Jenifer McShane. Starring Ernie Stevens, Joe Smarro, Amanda Miller, Kendra. Ernie And Joe screened at the 2019 SXSW Film Festival.
10 out of 10 Stars