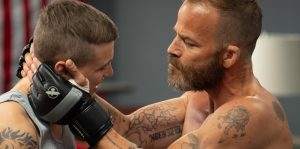 In Embattled, we are put dead center into the world of mixed martial arts or MMA. I will admit that I have never watched any UFC or anything similar in my life. I chose to watch this film because of one person— Stephen Dorff. I have been a fan of Dorff's ever since Blade, but my love for him was really set in stone with Cecil B. Demented. Since seeing that film, I've watched almost everything Dorff has starred in for better or worse. Thankfully, in the case of Embattled, we're talking about the better side of things. I didn't think I would like the movie as much as I did, but now that it's over, and I'm a crying, blubbering mess, I can safely say that I loved it.
Embattled centers on an eighteen-year-old, burgeoning MMA fighter, Jett Boykins (Darren Mann), and his rise through the ranks in the fictional organization, WFA. His martial arts talent is hereditary, as his father, Cash Boykins (Stephen Dorff), is the undisputed WAF lightweight and welterweight champion of the world. At the beginning of the film, we see that Cash and Jett have a close relationship and that Cash wants his son to succeed in the same way he did.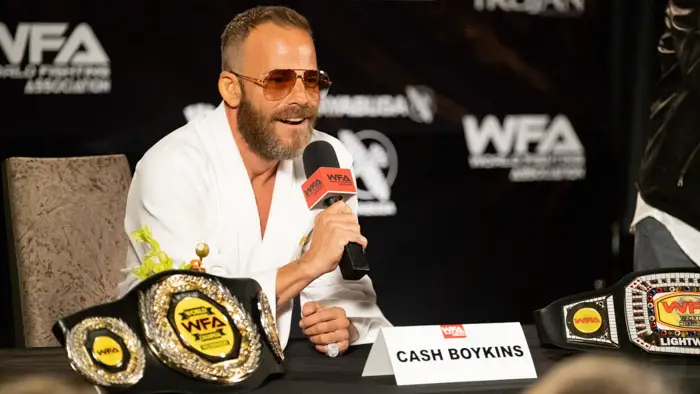 "…centers on an eighteen-year-old burgeoning MMA fighter…and his rise through the ranks…"
Slowly, as the layers of the characters' shared past are revealed, we see that this might not necessarily be the case. We discover that Cash was abusive to Jett, his little brother, Quinn (Colin McKenna), and his mother, Susan (Elizabeth Reaser). Cash now lives in a mansion with his second wife, Jade (Karrueche Tran), and their son, Kingston. He is a multi-millionaire with four houses and nine cars but won't give any extra money to Susan and the kids. He's kind of a scumbag beyond that, too—using racist and homophobic slurs, sexually harassing women, and making fun of his son, Quinn, for having Williams syndrome, calling him "tard."
Essentially, Cash grew up white trash and the finer points of his trashiness never really went away. He's an overgrown violent man-child who has never accepted responsibility for the horrible things he did to his family in the past. Jett, however, is the picture of kindness. He takes care of Quinn while his mom works at a restaurant and protects him and his other special-needs friends from bullies. He hooks his mother up with Quinn's teacher, Mr. Stewart, or as we later get to know him, Dan (Donald Faison).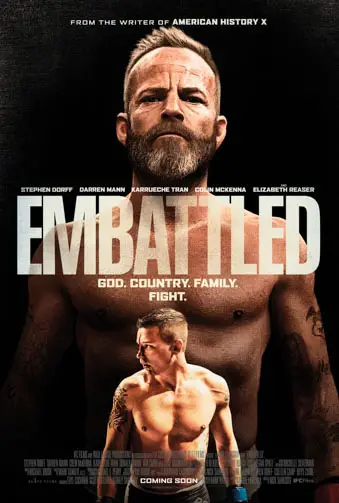 "…the film's culmination is an extremely realistic MMA fight..."