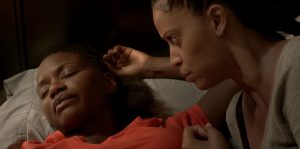 AMERICAN BLACK FILM FESTIVAL 2020 REVIEW! Let me just preface this by saying that my knowledge of sports movies is scant and there are only a few I have actually seen. Rocky comes to mind, which is funny because the film I'm talking about today definitely took some cues from Mr. Balboa, where the personal story is just as important as the action. This film is Antoine Allen's Lola. At first, you're not entirely sure what the film is going to be about, but about a third of the way through, it surprises you in that it is (mostly) a boxing movie.
Lola (Taja V. Simpson) is in her late teens-early twenties (her exact age is never mentioned in the film) and doesn't get along with her father, John (Nakia Dillard). He kicks her out of the house at the outset of the film after catching Lola making out with her girlfriend, Stephanie (Jennifer Figuereo), in her bedroom. Lola ends up going to her sister's house, where her sister's husband, Mark (Kazy Tauginas), tells her that he is sick of dealing with her problems. So with no place to stay that night, she goes out with Stephanie, her brother, and her brother's friend. A sleazy guy hits on Lola when she's on her way to the bathroom after dancing. She slaps him. He then overpowers her and rapes her in the bathroom.
I thought from the way that the movie started, that this was going to be a rape-revenge story. Instead, the culprit is caught by the cops immediately. Lola still has to face the trauma that is left with her but doesn't seem to have anywhere to go. She met a man named David (Merson Narcisse) at a cafe the day before, who was offering self-defense classes. She decides to go by the gym to hear more about the classes. David's mother, Diane (Marishka Phillips), owns the gym and has a problem with David spending time with Lola when he should be training for a fight. Then come to find out, Diane had a relationship with Lola's father long before she was born, which is part of the reason she was being hard on her.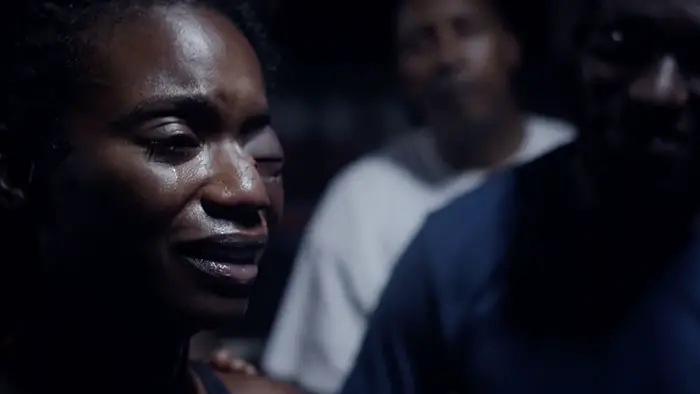 "Lola still has to face the trauma that is left with her but doesn't seem to have anywhere to go."
In the third act, Lola starts training at the gym for a tournament. There are standard encouragements about working hard and then the usual sports-movie repartee. At the very end that Lola says that she is boxing for women everywhere because women should be equal to men. She mentions that she was raped in the speech. It's a moment of empowerment that emboldens the rest of the film. 
While Lola comes off as a sports movie, it should really be considered a personal drama. It spends only a brief spurt in each category. The writing is good but sometimes strays into soap-operatic dialogue and over-the-top emotional moments. However, the overall story is a positive one that tells women to stand up for themselves and that I can appreciate. The fighting montages are also cool and reminiscent of a lot of previous sports films. Overall, I would say that even if there are some problems with the script, the acting in the film is good, especially on behalf of lead actress Taja V. Simpson.
Lola is seeing if you enjoy boxing and tales of people overcoming difficult obstacles. It has mostly wonderful performances and great cinematography on behalf of Christopher Fox. I like the fact that the film took place in The Bronx, which is usually an overlooked borough as far as film production is concerned. The positive message directed towards women is still rare in this day and age and when a man actually does the work to empower women, that is worth noticing. It is a good first feature and here's hoping they only get better the longer Antoine Allen is at it. 
Lola premiered at the 2020 American Black Film Festival.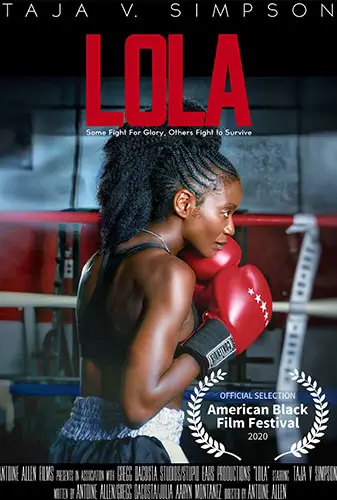 "…tells women to stand up for themselves and that I can appreciate."