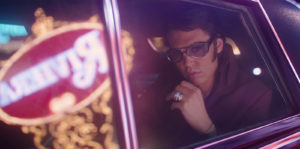 NOW ON HBOMAX! I'm just a little torn about Elvis. I suppose only co-writer/director Baz Luhrmann could bring the spectacle of Elvis Presley's life to the big screen, and the good and bad come with it. The film, written by Luhrmann, Sam Bromell, Craig Pearce, and Jeremy Doner, pretty much covers the entire life of Elvis (Austin Butler), from his childhood conversion at Pentecostal tent revival to his final moments on Earth. Then there's the slightly menacing, constant thread throughout his career: Colonel Tom Parker (Tom Hanks).
This is just as much Colonel Tom's story as the iconic singer's. The musical drama starts with Colonel Tom's life as the P.T. Barnum of country-western music. He travels the south with his "circus" of musical stars and quickly jettisons his roster when he discovers a young Elvis and the magical powers his pelvis has on his female fans. Tom quickly becomes a svengali of sorts to Elvis, gaining his complete trust and putting his parents in charge of his business affairs.
Throughout much of the story, we constantly question Colonel Tom's true motivations. It's rarely clear whether he's acting in Elvis' best interests or his own, at least at the start. He makes agreements to ensure that Elvis never gyrates in concerts or on television. When he's arrested, Tom negotiates his enlistment into the war, creating a rift in his partnership. An added complication arrives in the form of Priscilla (Olivia DeJonge).
Elvis is not your typical biopic. It screams Baz Luhrmann from start to finish as the story structure moves quickly and plays like an MTV music video. Honestly, the first act feels like a very long prologue that moves and moves, with rarely a moment to breathe. A scene flows quickly to the next and ratches up in intensity with each non-existent transition. I don't know how anyone who hates musicals will enjoy this style, but fortunately, I do. Yet as much as I appreciated Luhrmann's style, it sometimes got annoying.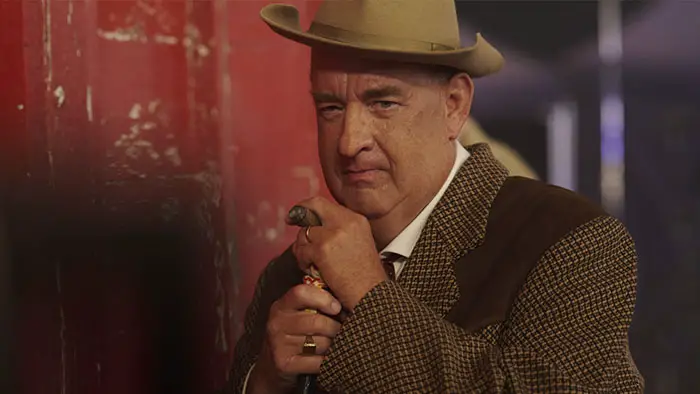 "…quickly jettisons his roster when he discovers a young Elvis and the magical powers his pelvis has on his female fans."
To me, the heart of the narrative is the showdown between Elvis and Colonel Tom in the second act culminating in the infamous Elvis Christmas Special. Here they are at the ultimate passive-aggressive war with one another. It is a colossal battle of wits; unfortunately, we know who wins in the end. The only problem I had with the finale was due to having full knowledge of the icon's last moments and just slowly watching that iceberg head our way.
What makes Elvis great is Austin Butler's performance. I can't say I'm an Elvis expert, but he feels like the King. His mannerisms, voice, and not-so-perfect look perfectly represent Elvis. Butler nails down the character arc beautifully; so much so that they might as well just hand him his Oscar right now.
Many may criticize Hanks' portrayal of Colonel Tom as a makeup-heavy cartoon character, but I don't see it that way. I think the actor's reputation as America's father perfectly fits the constantly shifting sympathy we have for the character. He's unscrupulous, but it's vital that there's always a single ounce of likability to him. Only Hanks can bring that as an actor.
But, let's face it, we're here for the music. It admirably recreates the sound of the Elvis that America has grown to love over the decades. Butler is spot-on as the King, and Luhrman not only brings the music to life, he adds a contemporary flair to some songs by blending in hip-hop. Most importantly, the filmmaker contextualizes each song with Elvis' life. As a result, "Suspicious Minds" has a new meaning based on where it's placed in the story.
Elvis offers an award-winning performance by Butler, a new resurgence of Elvis' catalog, and the over-the-top spectacle we expect from Luhrmann. This movie is made for fans of Elvis, Luhrmann, and a new generation of teen girls who'll fixate on Butler's nether region.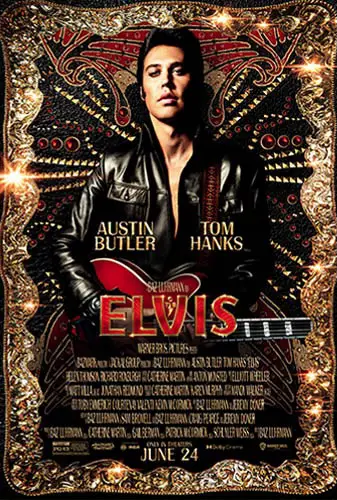 "…they might as well just hand [Austin Butler] his Oscar right now."