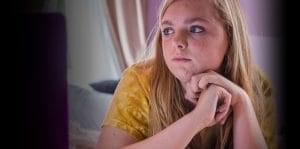 Nobody looks back at eighth grade with any kind of fondness and musings of a better time. It's a strange world as everything about you starts to change – internally and externally – and it's especially challenging to find the bandwidth at that age to deal with it all (personally, I had an embarrassing mustache – eighth grade was rough).
Comedian Bo Burnham makes his directing debut (he also wrote the script) with Eighth Grade, a movie that thematically treads in familiar waters, but does so with great humor and perception. Burnham is an enormously talented entertainer (just check out his Netflix specials) and directs his first film with similar energy.
"…doesn't have a lot of friends but don't you dare call her shy…"
An enormous amount of praise for Eighth Grade belongs to its star, Elsie Fisher, who at only 14 years old as a good amount of movie and television work to her name (most notable being the first two Despicable Me movies). Here she bursts on the screen as a brand new star, just waiting for the deserved career that awaits her. She plays Kayla, a young girl on the cusp of high school, trying to make sense of herself and the world around her.
Kayla spends a lot of her free time on her phone or making inspirational videos for the internet. Kayla doesn't have a lot of friends but don't you dare call her shy or quiet. She operates in her own existence, timid to put herself out there but nonetheless convinces herself to take the risk. She doesn't cower to the mean girls who think she's weird and not worthy of being invited to pool parties.
"…thematically treads in familiar waters…with great humor and perception."
The majority of Eighth Grade follows Kayla through the last week of junior high. High school doesn't seem so scary when she meets Olivia (Emily Robinson), a welcoming mentor, who is almost at the end of her high school career. Kayla is nervous but excited to find someone who generally enjoys her company and doesn't feel like she is being forced to invite her places. It's a minor part of the film but their friendship feels honest and tender.
What Burnham tries to convey with this film is that everyone goes through that specific weird and evolving moment in their life, which really doesn't make someone like Kayla all that different from the others. Any other high school movie would turn Kayla into a victim but Burnham's script knows better than to do that.
"…It's worth repeating – a star is born."
Josh Hamilton has some nice moments as Kayla's dad, who often receives the brunt of Kayla's newly found teen angst. Through all the silly moments and one-liners, awkward exchanges, and scenarios, Hamilton delivers a deeply affecting moment with Fisher. There were some sniffles happening behind me.
As Burnham branches out to explore new avenues of his career, he has offered a fine example of what he can do and left it with a promise that there is more to come. Same goes for Fisher, who at such a young age, has proven she is able to balance so much in the matter of a scene. It's worth repeating – a star is born.
Eighth Grade (2018) Directed by Bo Burnham. Written by Bo Burnham. Starring Elsie Fisher, Josh Hamilton, and Emily Robinson. Eighth Grade had its world premiere in the U.S. Dramatic Competition section at the 2018 Sundance Film Festival.
Grade: B+