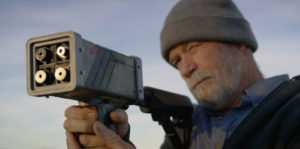 Josh Izenberg and Brett Marty's Eco-Hack! is about biologist Tim Shields. Deep in the Mojave Desert in California, armed with drones, booby-trapped turtle shells, space-like overs, and laser guns, it looks like he's leading the charge in any big-budget sci-fi film. Instead, Shields is leading the fight against animal extinction, especially the desert tortoise. Climate change and habitat loss are considerable risks to desert tortoises, but ravens are the easiest to deal with. How do you stop ravens from wiping out the tortoise population? That's where Shields, his team, and a lot of creativity come into play.
Izenberg and Marty make the most of their 16-minute run-time. The documentary quickly establishes the causes of tortoise extinction, highlights the concerns for the species, and jumps into the subject and his team's ingenious, sometimes bizarre methods to stop ravens from killing tortoises without harming the birds.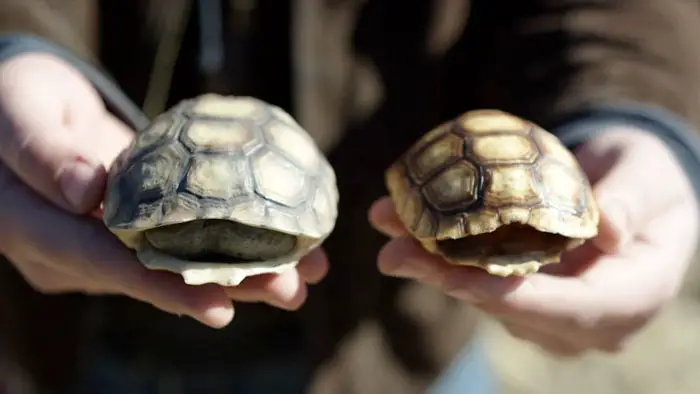 "How do you stop ravens from wiping out the tortoise population?"
It is inspiring to see how far these individuals will go to protect some of the most overlooked animals in the desert. Eco-Hack! uses sublime wildlife footage juxtaposed with dead tortoises to drive home the need for change, resulting in a powerful emotional appeal throughout. But the narrative does need a more specific call to action. Knowing what conservationists and engineers can do to help is an excellent start, but what can the average person do? The film provides viewers with information about the desert tortoise, but how can we use that to make a difference?
Eco-Hack! is well made. Izenberg and Marty have a clear vision, and the film will raise awareness of the challenges facing the desert tortoise population. Still, the short is an excellent watch for wildlife or conservation documentary fans. Those who watched Lion Spy will love Shield's creative approach to conversancy, and those who adore tortoises will feel the pull to rescue them.