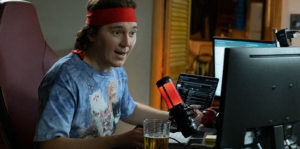 NOW IN THEATERS! Based on the 2021 book The Antisocial Network by Ben Mezrich, Craig Gillespie's Big Money tells the story of the normie retail traders who dare to take on the monolith that is the corporate finance industry. One of the greatest Robin Hood stories of the current era, so Hollywood needs to make money off the story.
At the center of Big Money is Keith Gill (Paul Dano), a YouTube influencer and Reddit r/WallStreetBets contributor known as Roaring Kitty. Gill is committed to the idea that GameStop is a solid investment. Yet, when the pandemic hits, it puts the storefront retail chain into collapse. Taking advantage of GameStop's imminent demise are hedge fund managers Gabe Plotkin (Seth Rogen), Steve Cohen (Vincent D'Onofrio), and Ken Griffin (Nick Offerman), who decide to short the stock (bet that its price will plummet) and stand to make billions in the process.
Seeing those billionaires are about to make billions on the video game store, Gill goes to the net and inspires small-dollar investors to buy GameStop and hold. The gamble paid off as the stock rose from $3.77 to $486. Dumb Money quickly becomes a chess game between Gill and his WallStreetBets army and the evil hedge fund managers.
Dumb Money also takes us into the lives of a few of these investors who put their faith in Keith Gill. Jenny (America Ferrera) is a nurse who lives off credit cards daily. Harmony (Talia Ryder) and Riri (Myha'la) are a college couple in deep with student loans, and Marcus Barcia (Anthony Ramos) is a Game-Stop employee just trying to make it as a sales clerk under the brutal reign of his manager Brad (Dane DeHaan).
"Gill goes to the net and inspires small-dollar investors to buy GameStop and hold. The gamble paid off…"
We also peer into the controversial Robinhood app CEOs Vlad Tenev (Sebastian Stan) and Baiju Bhatt (Rushi Kota), who built an online platform that allowed normies like us to invest in the stock market without paying exorbitant transaction fees. They also famously prevented its users from buying GameStop stock for a brief moment in time.
I'll admit. I have a beef with Dumb Money. The story of Keith Gill and WallStreetBets is one of legend. A large group of inconsequential investors took down the system, exploiting the downfall of companies like GameStop for pure financial gain. This story is better told in documentary form, including GameStop: Rise of the Players and Diamond Hands: The Legend of WallStreetBets.
This is a real-life David and Goliath story, and Dumb Money tries to tell this story with very little nuance. It is loaded with cinematic emotional manipulation…all with the goal of patting the filmmakers and stars on the back and not of the real-life Gill and WallStreetBets. In fact, if you watch the two documentaries mentioned above, WallStreetBets is criticized by the same Hollywood folks in this film as toxic internet trolls and MAGA disciples.
In the end, we have Hollywood's attempt to hijack an everyday person's story that, ironically, corporate Hollywood wishes never happened in real life. Look, as a film, it's typical Hollywood with good and mixed performances from some of its greats. Paul Dano does sympathetic low-status very well. Shailene Woodley plays the loyal wife equally well. Pete Davidson does what he does best and attracts a young female audience. Seth Rogen does slimy like the great method actor. Nick Offerman can do no wrong. Lastly, with this and Barbie, America Ferrera is the new face of injustice.
Again, there's just no nuance here. Good is good. Evil is evil. We have seen the story of the hero's rise and the giant's downfall many times. Hollywood plays with our emotions very well…almost too well. Dumb Money is a masterclass in audience emotional manipulation. If you felt inspired by Dumb Money, let me ask you two questions. What does it mean to short a stock, and what's a hedge fund?…thought so.
In the end, thanks, Dumb Money. You appropriated a story of the little guy, and now you own it. Well done.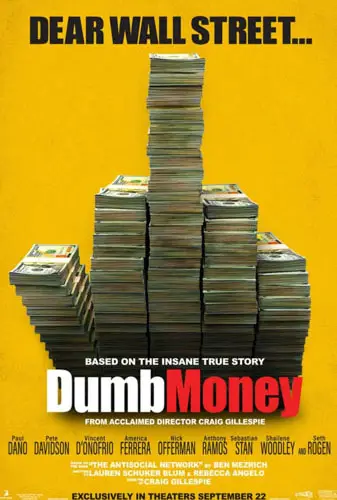 "…a masterclass in audience emotional manipulation."