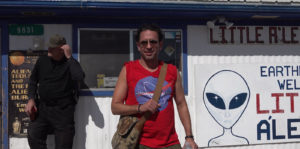 Tone is such an important aspect of any film, fictional narrative, documentary, feature-length, or short. When you oscillate from the serious to the absurd, it can be difficult to take a movie seriously, especially when dealing with an already controversial topic such as alien visitors. Comedian/director Brian Moreno's Dreamland – A Storming Area 51 Story, co-written by Geoffrey McNeil, is a mockumentary, which makes sense given his background. But, it jumps back and forth between the mockumentary and trying to be a serious film about aliens, leading to a tone that is uneven as a result.
The film starts with Moreno briefly explaining why he believes in extraterrestrials, with information coming so fast and furious that it seems like an afterthought. I would have liked to have seen a bigger emphasis and slower pace on this opening to give his beliefs more weight since not everyone is a UFO (or UAP as it is also called now, which stands for Unidentified Aerial Phenomena) enthusiast. Instead, we're told through news clips about how what started as a joke on Facebook became a viral story about two million people planning to get together to storm Area 51, the infamous government spot in the desert home to many UFO conspiracies.
Then we get some talking head interviews of average people off the street, but it's all stories that sound familiar when talking about UFOs. This is an example of the pacing issue because the movie starts off so quickly with information and then slows down considerably with these interviews. So even though the segment isn't long, it feels like it is from the lack of anything interesting.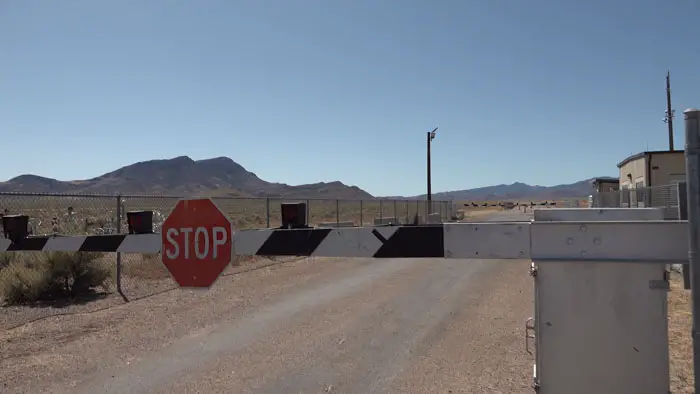 "…viral story about two million people planning to get together to storm Area 51…"
Dreamland – A Storming Area 51 Story moves on to show that Moreno is dealing with tough times in his personal life, having broken up with his fiancé, having a lull in his standup career, and seeing bills piling up. So, he's in desperate need of the kind of adventure that storming Area 51 presents. The rest of the film consists of news clips interspersed with a mockumentary road trip to a music festival at Area 51 (since the official Storming Area 51 event was canceled after government pressure) and more talking head interviews.
The mockumentary portion may have worked if it was actually absurd, like This is Spinal Tap. It was instead filmed like cinema verité, where the filmmakers' do mundane things like trying to lock down a director for this very documentary. They end up at the music festival, but it's a sad sight since so few people actually showed up, and unfortunately, that depressing feeling permeates the production itself. I kept waiting for the laughs, especially when someone did a standup set dressed as an alien at the festival, but they were too few and far between.
The strange tone and pacing make one wonder who the audience for Dreamland – A Storming Area 51 Story is supposed to be. I was hoping for a fun voyeuristic adventure of passionate people trying to storm Area 51. But, just like definitive proof of extraterrestrial life on Earth, I'll have to keep waiting.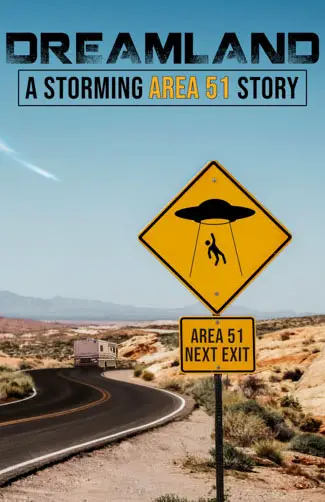 "…tone is such an important aspect of any film..."