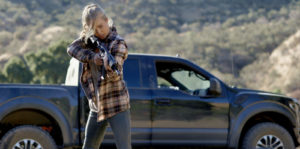 Director Shane Stanley's feature Double Threat is everything you want in an action film and nothing that you don't. It opens in a convenience store where a handsome traveler named Jimmy (Matthew Lawrence) is picking up road snacks. The attractive blonde clerk, Natasha (Danielle C. Ryan), flirts with him by pointing him to better choices. Their conversation is violently interrupted when assassins appear and attack the cashier. It becomes quickly obvious that Natasha is more than she seems when she rises from behind the counter with a shotgun and shoots her way out of the store. With the attackers dead or dying, Jimmy flees in terror and drives away.
Jimmy realizes he should be calling the police when Natasha pops up in his back seat, heavily armed. Just as he is absorbing the shock of seeing her in his truck, they are beset by a vehicle chasing them: another strike team looking to take Natasha out. After they've shaken off the chase, Jimmy's life takes an insane turn as Natasha explains to him that she is being chased by an organized crime family and asks him for a ride. Jimmy is a quiet accountant on a mission to spread his brother's ashes in the sea. He's unaccustomed to the violence of her world, but the shocks keep coming over the next few days. He learns that Natasha has Dissociative Identity Disorder, more commonly known as Split Personality.
Double Threat uses the conceit of DID to show that the female lead is actually two people: Nat and Tasha. Nat is calm and reasonable, as well as cautious. Tasha is a trained killer and wild woman. She fears nothing, shakes off injuries, and is, in essence, a complete badass. Natasha's two personalities do not know what the other one has done. Jimmy's panic intensifies when it becomes clear he has to deal with both sides of the Natasha coin.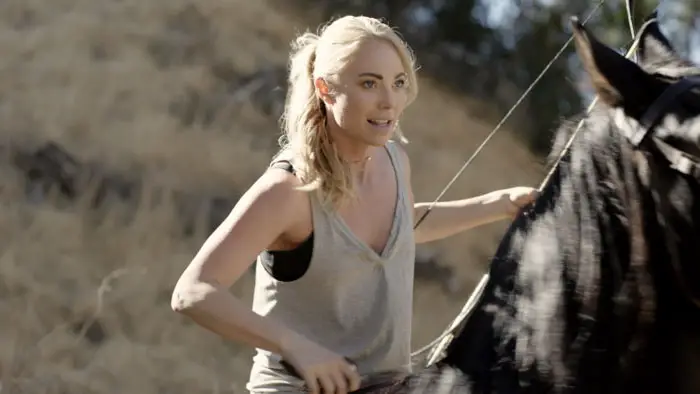 "…Natasha explains to him that she is being chased by an organized crime family…"
On the organized crime side, the tale follows Ellis (Kevin Joy) and Ask (Dawn Olivieri). Ellis is the young, hot-headed scion of the crime family. Ask is the more seasoned enforcer sent to look after Ellis and make sure Natasha is put away for good. Much of the plot, such as it is, centers around what Natasha has done to earn the ire of the ruthless crime family.
Stanley keeps the pace as hot as his lead actors, and the action is rapid-fire throughout. The narrative is just a reason for the characters to interact, whether that is Jimmy and Natasha sparking a high-velocity romance while trying to get to the beach intact or their pursuers intent on ending their trip. The soundtrack and editing also work in the service of the action, and it all comes together for a rock and roll conclusion.
Double Threat has enough of a budget to look polished but not so much as to create distractions from the fight scenes and the suspense, which are quite good. Fantastic Saturday afternoon popcorn-film joy awaits anyone who watches this action-thriller.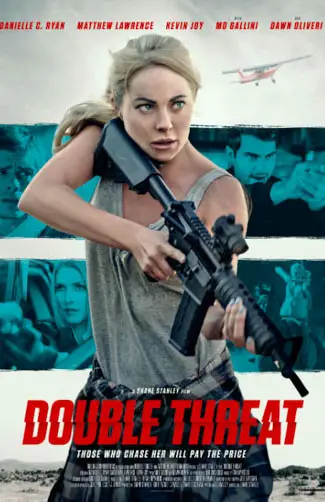 "…the action is rapid-fire throughout."