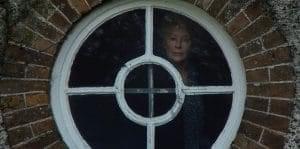 Gothic horror movies need a big, spooky house full of shadows and creepy looking artifacts. It also helps to have some strange and deranged beings who invite you inside. And you go inside, even though every fiber of you screams to get the hell out — because there's no movie if you turn around and look for a Taco Bell instead.
It helps if the house happens to be in the UK, or in this case, Ireland because they've been doing creepy over that side of the Atlantic for a long time. Burnt Offerings and The Wicker Man are prime examples. You get the quintessential "normal person" walking into a den of strange-os, and the visitor decides to ignore their gut instinct and stay awhile. Of course, to us, it's painfully obvious that before long someone's head is liable to end up on a stake.
In Don't Leave Home, Melanie (Anna Margaret Hollyman), an American artist who makes dioramas, is invited to fly to the Emerald Isle to create a commissioned work that will be auctioned to wealthy European art collectors.
"It involved a Catholic priest who painted a picture of the 8-year-old standing before a statue of the Virgin Mary."
She's fascinated with a missing girl case that took place in Ireland years earlier and made an artwork depicting the scene of the incident. It involved a Catholic priest who painted a picture of the 8-year-old standing before a statue of the Virgin Mary. Once the painting was done, the youngster vanished and so did her image in the priest's painting.
Lo and behold, the ex-priest, Alistair Burke (Lalor Roddy), who's been living in relative isolation ever since, summons Melanie with the promise to purchase her artwork. He lives in a rather large, gloomy estate along with Shelly (Helena Bereen), who seems in control of everything under that roof, including Burke, although their relationship is murky. She's equal parts Nurse Ratched and Frau Blücher (of One Flew Over the Cuckoo's Nest and Young Frankenstein, respectively).
From the start, we're two steps ahead of the story, and that's how it stays for most of the rest of the film. What's amusing, maybe intentionally so, are the heavy-handed clues that something is truly weird at this country residence. You must not tell anyone you are coming here, Melanie is informed as she accepts the job. Hmmm, OK, no problem. Padraig (David McSavage), their driver, maintains a mute and spooky presence throughout that is borderline hilarious. On her first night at the estate, Melanie dines on a suspicious looking bowl of stew and begins to have graphic nightmares — all good reasons to pack and catch an Uber.
"…when…chaps dressed in powdered wigs…turn up for the auction, the conspiratorial tone of the film begins to gel…"
Still, this Gothic drama somehow remains appealing. It's easy to forgive its melodramatic excesses, especially if you happen to be partial to the genre. And things do pick up as the story unfolds. Later, when a secret society of chaps dressed in powdered wigs and 18th Century duds turns up for the auction, the conspiratorial tone of the film begins to gel, even if nothing is quite adequately explained. We do end with a sense that this country has a history dating back to the Troubles in Northern Ireland of missing persons who may have been kidnapped or killed and secretly buried.
Overall, the film looks good. It's presented in a square format, which makes it seem all the more like a 1970s era English horror flick. Wyatt Garfield's atmospheric cinematography sets the appropriate mood, whether it's the interior of the ramshackle estate, or the woods and grotto on the surrounding grounds. And the performances are convincing, especially Lalor Roddy's long suffering priest, Alistair Burke.
If it were an old phonograph record you might say it has some pops, scratches and a couple of skips. But it's still worth a few spins on the turntable.
Don't Leave Home (2018) Directed by Michael Tully. Written by Michael Tully. Starring Mark Lawrence, Helena Bereen, Karrie Cox, Anna Margaret Hollyman, David McSavage, Lalor Roddy.
6.5 out of 10 vials of poison