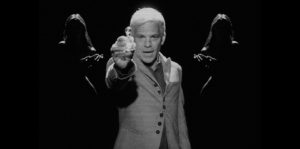 NOW IN THEATERS! If "far out, man" are three of your favorite words, then break the doors down to see writer/producer/director Eddie Alcazar's bizarre sci-fi cult film Divinity. In the future, fewer humans will be born due to mass infertility. However, humans are living much longer thanks to Divinity, the wildly popular drug from Pierce Consumer Products. Discovered by Sterling Pierce (Scott Bakula) and perfected by his son Jaxxon (Stephen Dorff), the drug enhances the physique and promises immortality. With his brother Rip (Michael O'Hearn) as the spokesmodel, Jaxxon runs Pierce while ensuring the trade secrets for Divinity's recipe are kept.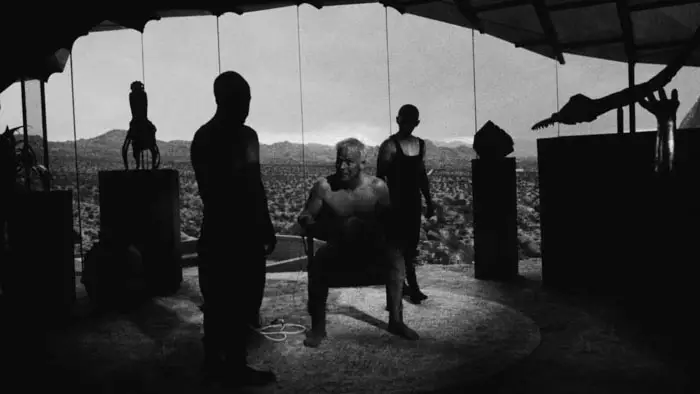 "…fewer humans will be born…However, humans are living much longer thanks to Divinity…"
Meanwhile, in another celestial place, Ziva (Bella Thorne) and her purity beings watch over man's folly, awaiting what will come. Jaxxon is held captive by the sullen Star brothers (Moises Arias and Jason Genao) one night. They tie him to a chair and force undiluted Destiny into his veins. Jaxxon screams the dosage will kill him, while the Star brothers think differently. Then Nikita (Karrueche Tran) arrives at the door as she had been hired to do. Little does she know, as the Star brothers answer, that the man who hired her is in the back with his mouth taped shut and a needle in his arm.
I just finished seeing this, and I want to see it again. Now. Divinity is the Eraserhead for the 21st century, as now a new generation can blow their minds to a black-and-white midnight flick of their own. Alcazar makes the same smart moves Lynch made by draping the surreal skins across solid plotline skeletons. This makes the whole trip, eh, screening weird yet easy to follow. Of course, it is far from a normal movie, and that is what makes it such a glorious beast. Most of the cult film connoisseurs will be on board once they get a gander at the old-school title credits done on what looks like a Commodore 64.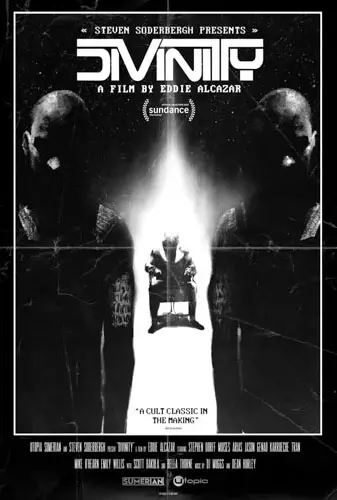 "…the Eraserhead for the 21st century..."