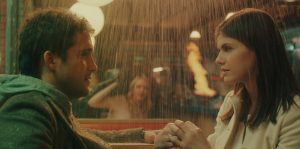 NEW TO HULU! Director Collin Schiffli's Die In A Gunfight is this year's Reese's Peanut Butter Cup: two great tastes that taste great together. In the tradition of Romeo and Juliet screenwriters Andrew Barrer and Gabriel Ferrari mashup romance and violent action to tell the story of star-crossed lovers Mary (Alexandra Daddario) and Ben (Diego Boneta).
Ben is the only son of the powerful Gibbon family and has developed a distaste for his parent's greedy, capitalist ways. In turn, he's developed a penchant for fighting. But his addiction to physical pain is switched out for love when he meets Mary, the only daughter of the Gibbon's villainous rival, the Rathcarts. When the couple is discovered, the Rathcarts ship Mary off to France for study and under the watchful eye of contract spy Terrence (Justin Chatwin). Of course, Terrence develops a stalker obsession with the lady.
Now on winter break, Mary returns home, with Terrence in tow, and reconnects with her former lover. Unfortunately, as the couple try to figure where their love has gone, the Rathcarts are about to be taken down by a whistleblower over a secret illegal project currently in the works. The patriarch, William (John Ralston), hires Terrance to take out the whistleblower and, in turn, they'll allow him to marry Mary. This all feels like Romeo and Juliet, right?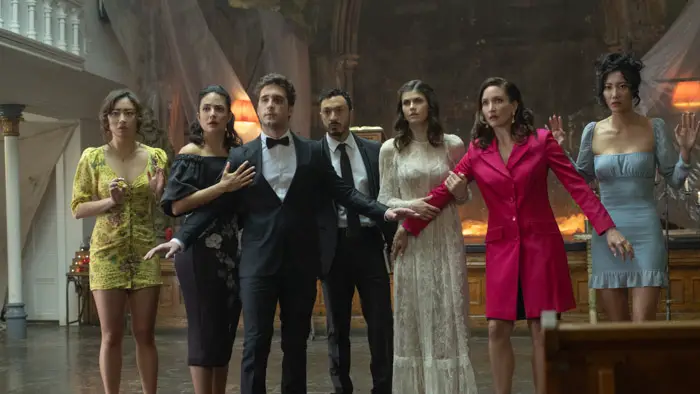 "…hires Terrance to take out the whistleblower and, in turn, they'll allow him to marry Mary."
Die In A Gunfight is a story about true love and whether it can survive in the murderous world of corporate intrigue and conspiracy. Our main characters are either motivated by greed or love. In the case of our lovers, Ben and Mary, the film does a great job establishing why the two are not only soulmates but willing to go to extraordinary lengths to protect one another. This is the Romeo and Juliet part.
At the same time, the greedy capitalist threat keeping them apart feels natural in a very comic book or anime way. At one point, Ben comes across the assassin, Wayne (Travis Fimmel), hired by Terrance to murder the whistleblower. They happen to meet at a nightclub, and Wayne's wife, Barbie (Emmanuelle Chriqui), takes a liking to Ben and wants to swing. Ben refuses, which only adds to the list of a growing number of his enemies.
I have great admiration for Die In A Gunfight. It's not a great movie, but it's good. Good because it takes what would otherwise have been a typical gangland story and overlays it with a tragic romance. The new theming adds a different dimension to very worn-out and overused characters. It brings a nuance to the characters that allows for a fresh portrayal of Ben and Mary and their bonding despite deep-seated roots of distrust and their disappointments of the past. Plus, Boneta and Daddario have great chemistry.
Action-wise, it's not that bad. There are decent hand-to-hand fights, brutal beatings, and a lot of gunplay. Nothing groundbreaking here, but with the glut of action films coming down the cinematic conveyor belt, innovation at an indie level is becoming increasingly difficult.
I recommend Die In a Gunfight to any film fan who wants to see a different take on the mob-love story. To clarify, the romance takes a back seat to the violence when equal footing would have made the film so much better. I think you'll appreciate seeing something new to in this genre.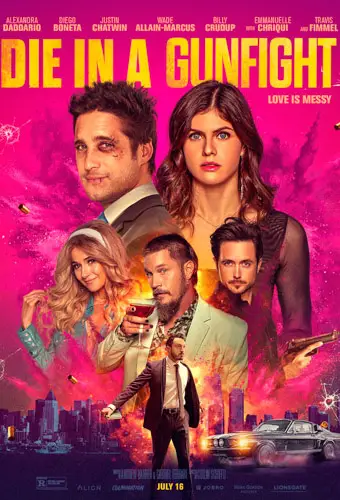 "…decent hand-to-hand fights..."