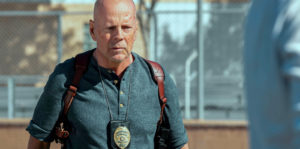 Detective Knight: Independence is the final film of writer/director Edward Drake's Detective Knight trilogy, co-written by Corey Large. It is also one of the last movies of Bruce Willis' illustrious career. All three films have featured some common threads besides the main characters: they've taken place during a holiday (with the Fourth of July taking center stage here), they feature a heist, and they all attempt to show the antagonist in a more human/sympathetic light, while the protagonist displays shades of gray.
I appreciate that the villains in this series are not simple cartoon characters because, as Rhomann Dey said in Guardians of the Galaxy, "I don't know if I believe anyone is 100% a dick." Jack Kilmer, son of legendary movie star Val, is the new "bad guy" this time around. He plays Dezi, who, in his own mind, is the hero. Dezi starts out on track as a prototypical good guy because he's an ambulance EMT, but his character slowly unravels after losing his job due to a complaint.
Bruce Willis is once again Detective James Knight, with Lochlyn Munro back as his trusty partner Fitzgerald, the Barney Rubble to Knight's Fred Flinstone as they joke in the film. Willis is no longer the actor he once was due to a condition called aphasia, which is the inability to understand or express language. It's still fun to see him back in action, albeit in limited screen time, giving it his all one almost-final time for adoring fans.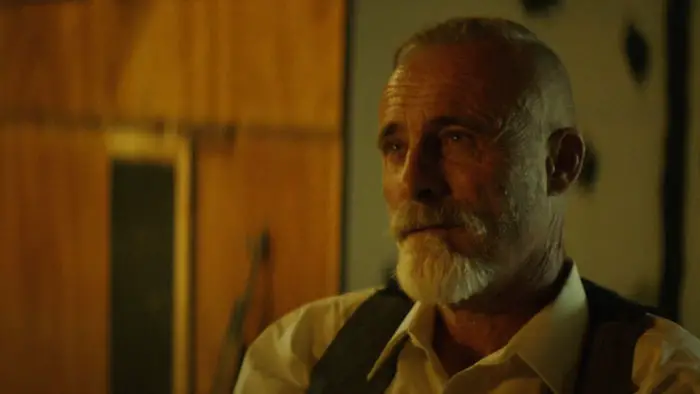 "…an ambulance EMT…slowly unravels after losing his job due to a complaint."
I enjoyed the all-star cast that surrounds Willis here. There's Timothy V. Murphy as Dezi's eccentric ex-criminal father and Dina Meyer as police chief Charlotte Burnham. The aforementioned veteran actors don't get a ton of screen time, but as the saying goes, "There are no small roles, only small actors."
Jack Kilmer is the star of Detective Knight: Independence, and he pulls it off. His looks, and a shootout scene in the streets a la Heat, reminded me of his famous father. But the younger Kilmer does a good job of establishing himself as his own man with his own acting talent. Willow Shields (no relation to Brooke) also does a fine job as Ally, Dezi's EMT partner and lover.
The cast and compelling story of a young man's descent into crime, along with Detective Knight's family drama, much like John McClane's personal struggles in Die Hard, make for a fitting send-off for the one and only Cowboy. Willis gets to play the hero and say some more cool lines while riding off into the sunset. He will certainly be remembered for Die Hard, and despite the rough and tumble exterior, he was a great comedic actor as well, starting all the way back in his Moonlighting days. As Babylon and Death Cab for Cutie's song "Here to Forever" would paraphrase, the stars on the silver screen will last forever.
 Detective Knight: Independence is a must-see for fans of Bruce Willis. Those who are into the action genre as well should check it out because of the added character depth and cast. Here's looking at you, Bruce! We'll always have Nakatomi Plaza.
For more information about Detective Knight: Independence, visit its official site.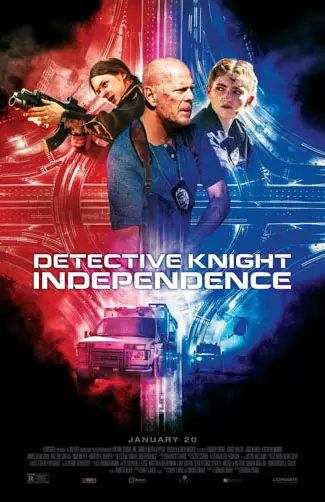 "…a must-see for fans of Bruce Willis."