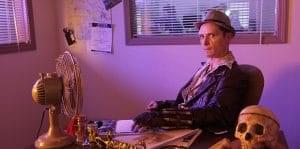 Set in Mobile, Alabama, it makes sense that Demon Squad reminds me quite a bit of one of my favorite HBO shows True Blood, minus the softcore porn aspects and (unfortunately) Alexander Skarsgard. The show and the film have a good bit in common. They are both set in the coastal South, they both feature supernatural beings (demons, vampires, etc.), and there is a romantic element with the protagonist. Past that, I would say that the similarities end. The protagonist in Demon Squad is a male detective named Nick Moon (Khristian Fulmer). He is a P.I., a Paranormal Investigator that is.
Even though Moon is not a private eye, he has all the traits of a Sam Spade or Philip Marlowe—a drinking problem, propensity for violence, and bad luck with women (he has four ex-wives). The only difference is that Moon has certain gifts and tools that make him capable of tracking paranormal criminal activity. He also has an empath assistant named Daisy O'Riley (Erin Lilley), who keeps him on as short of a leash as possible and makes sure that the business still runs.
"…has certain gifts and tools that make him capable of tracking paranormal criminal activity. He also has an empath assistant…"
At the outset of the film, Moon has just received an item that a work associate named Moses requested of him. It turns out that this item is a power source for an ancient dagger that can alter the fabric of the universe, create super powerful weapons, and also make it impossible for a human to kill demons and their ilk. Naturally, the dagger once belonged to the kidnapped father of a beautiful woman named Lilah Fontaine (Leah Christine Johnson). She approaches Moon for help, and because of his attraction to her, he gets lured into danger, he wouldn't have otherwise.
Demon Squad is a lot of fun, and could very easily be made into a series if writer/director Thomas Smith and co-writer/star Erin Lilley felt like doing it. For the budgetary constraints, the costume and makeup design are very good, as are the special effects. The lighting and sound aren't the best, but it's not enough of a distraction to lodge too many complaints. The film is well written and funny. Fulmer, Lilley, and Johnson are all quite good.
Overall, I'd say that both Charlaine Harris and Raymond Chandler would be proud of this amalgamation of their source materials. I guess I could throw Joss Whedon in here as well because a lot of the make-up, dialogue, and action is reminiscent of Buffy: The Vampire Slayer. Demon Squad is not greater than the sum of the parts it borrowed from, but it is enjoyable nonetheless, and I always like to support Southern filmmakers, being from the South myself. So check out this southern fried demon movie whenever you get the chance!
Demon Squad (2019) Directed by Thomas Smith. Written by Erin Lilley and Thomas Smith. Starring Khristian Fulmer, Erin Lilley, Leah Christine Johnson, Martin Ross Henne, Monica Ganoe, Eric C. Schmitz, Kelli Houk, Amir Zandi, Alton Landry, Bennett Wayne Dean Sr.
6 out of 10