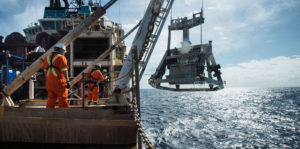 SUNDANCE FILM FESTIVAL 2023 REVIEW! For those of us concerned with Earth's environmental crisis, please take note. As the world scurries to keep up with energy needs, one resource has been left relatively untouched or unknown to the public until now. In Deep Rising, director Matthieu Rytz reveals that there is a new destructive path to ruining the planet via deep ocean mining.
As a new frontier of living on electric batteries takes hold on how we operate and live, metal extractions are at a premium. Tech giants such as Elon Musk, among others, are leading the way. Land mining has been scarring landscapes and destroying communities, including Native lands and heritage, who live close to the mining sites. In an in-depth, no pun intended, and visually stunning documentary, Rytz, along with narrator Jason Momoa, provides a comprehensive and educational deep dive into how ocean mining has been secretly occurring around the planet and how it could be worse than mining on the land. Its destruction is most likely irreversible. Even worse is that the mining companies know very little about the life in the ocean where nodules loaded with various metals exist that supposedly hold the answer to our battery needs.
The Metals Company is mining these nodules with machinery the size of ginormous columbines in a cornfield. It's run by CEO Gerard Barron, whom we follow in his desperation to fund and launch his mining operation along with The Metals Company's rise to a public offering on Wall Street. Barron claims that the entire operation is mindful of long-lasting environmental impact, especially on the Pacific Ocean floor. Of course, he says this to investors in China and other countries. At the premiere, Momoa had no filter on the subject and spoke freely about this travesty and his commitment to saving the seas. Specifically, he rails against the constructs of deep ocean mining machines.
"…ocean mining has been secretly occurring around the planet…"
The beloved actor provides profound narration describing the beauty and fragility of life at these mining spots. He explains how the connection between our oceans and existence is at a tipping point. He profoundly describes the sea life imagery in Deep Rising, which is breathtaking and meditative. The screen explodes with colorfully-lit organisms floating, moving, and living amongst other sea life in their deep ocean environment. They exist in and around these metal-ladened nodules whose removal could be devastating. It is in these beautiful moments Momoa's deep, descriptive voice narration is most compelling.
Rytz also sheds light on how all this is happening and that the International Seabed Authority is the agency that gives permission to mine the Pacific Ocean floor under the United Nations Convention on the Law of the Sea (UNCLOS). However, despite the overwhelming support for the U.S. by all American government agencies, major interest groups, and many administrations, our country is not a party to the Law of the Sea. This oversight is due to conservative views that the U.S. would be surrendering part of its sovereignty to international organizations.
One can not help but compare The Metal Company's Gerard Barron to the likes of Adam Neumann of We Work. Barron emulates a Pied Piper of sorts or perhaps a new edition of what seems to be a recurring rendition of "The Emperor's New Clothes" — only this version could be catastrophic. Interestingly, Rytz said Barron signed off on Deep Rising, which may or may not surprise you. It certainly did me.
Deep Rising screened at the 2023 Sundance Film Festival.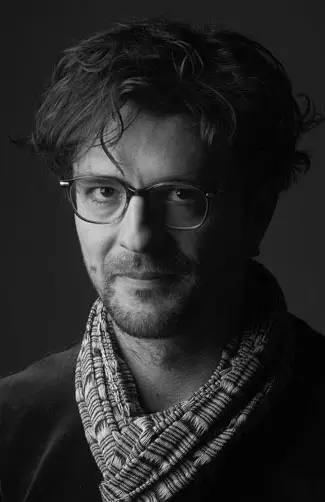 "…provides a comprehensive and educational deep dive..."