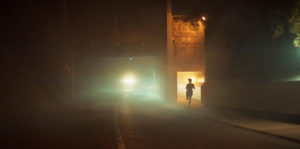 TORONTO INTERNATIONAL FILM FESTIVAL 2023 REVIEW! Director Ian Gabriel's Death of Whistleblower begins 37 years ago on a remote military base. A young woman, Emma (Inez Robertson), argues with her boyfriend, storming out of their apartment and fleeing the base. After a quick chase, she is captured by soldiers, but not before her eyes begin to bleed.
Cut to the present day. Albert Loots (Irshaad Ally), a corporal in the South African military, discovers evidence of Emma's disappearance and its connection to a massive cover-up. Risking his own life, Albert leaks the information on Emma to a journalist, Stanely Holloway (Robert van Vurren), hoping to expose the corruption embedded at the core of his government. Political journalist Luyanda (Noxolo Dlamini) is distraught as her editor scraps her most recent exposé. Finding solace in a local bar, Luyanda runs into Stanley, who is fresh from discovering the disappearance of Emma and its ties to a larger national conspiracy. But just as he gets closer to the truth, he is assassinated before her eyes. Luyanda is now thrust into a dangerous and duplicitous world of espionage as she seeks the deadly truth behind Stanley's murder and a missing girl.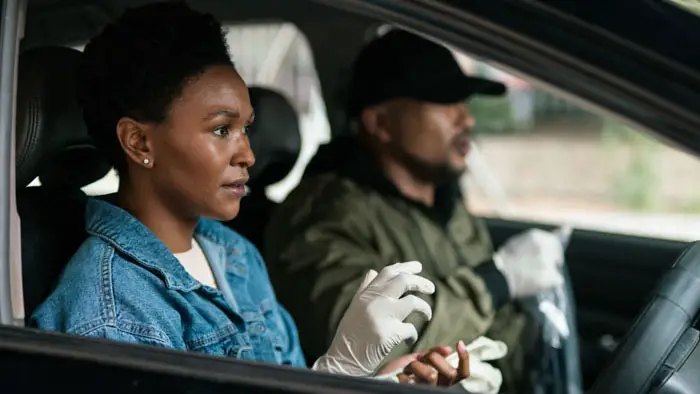 "…Luyanda is now thrust into a dangerous and duplicitous world of espionage as she seeks the deadly truth…"
After Stanley's assassination, Death of a Whistleblower shifts from exposition-heavy drama to full political thriller. Moments feel like the subplot of a Jason Bourne movie but expanded into a feature format. Writers Ian Gabriel, Kelly Eve Koopman, Philip Roberts, Marius Scholtz, and Louis Viljoen pace the plot twists, clever solutions, and Luyanda's most prominent character moments with the precision of a Bourne entry. And while this may not be a total spy feature, the director borrows more than a few things from Robert Ludlum and Tom Clancy; the film is better for it. All the big reveals feel natural.
Luyanda's arc feels earned and is magnified by Noxolo Dlamini's superb performance. Dlamini and Ally are clear highlights. Each cast member brings a gravitas to their respective role, elevating the tension. The action sequences are used sparingly, but all serve the plot well, never feeling like action for the sake of violence. A few supporting characters and some strained dialogue detract from some of the plot's more emotional beats. Still, the actors' commitment to character shines through, making for a gripping thriller.
The more Death of a Whistleblower feels like a Ludlum novel or even All the President's Men, the stronger the story feels. Gabriel has created an excellent political thriller with dynamic themes, an engaging premise, and two fantastic performances. Yet, exposition overflow and some dragging scenes are noticeable throughout. Running at two hours and seven minutes (with credits), this could lose a few minutes and still carry as much emotional weight with double the punch. Still, the filmmaker and his crew have crafted a smart, well-rounded movie. The attention to real-life whistleblowers drives home the story's relevance even more. Gabriel's connections to reality make the thriller more than an intriguing pseudo-spy story but a call for real-world change.
Death of a Whistleblower screened at the 2023 Toronto International Film Festival.