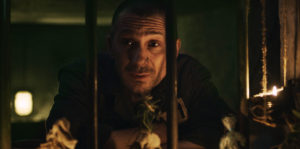 At the turn of the 20th century, one of the most horrific and historically invisible acts of genocide occurred by the Turks against the Armenian people. Then, in 1947, the Soviet Union opened the occupied country of Armenia to its scattered people. Michael Goorjian tells the story of one such Armenian-American's return home in his feature film, Amerikatsi.
Amerikatsi tells the story of Armenian-American Charlie (Michael Goorjian), who decides to repatriate to Armenia after escaping the genocide decades prior. However, with the promise of a new life in his former homeland, Charlie's hope-filled return is met with long lines for food, less-than-desirable living conditions, and the pressures of Soviet rule.
During a run on food, an aristocratic mother, Sona (Nelli Uvarova), loses her son in the hungry mob. Charlie rescues the boy, and the grateful Sona invites him to dinner with her husband, Russian Commander Dmitry (Mikhail Trukhin). At dinner, Charlie complains about the living conditions. Sona asks Dmitry to help Charlie, but the unimpressed Dmitry instead arrests Charlie at night (unbeknownst to Sona). Through a series of miscommunications, Charlie inadvertently confesses to being an American spy and is sentenced to ten years in prison.
Charlie soon realizes that the liberation promised to his Armenian compatriates instead finds the soul of Armenia "suffocated beneath the iron curtain." Rather than give up on life in solitary confinement, Charlie spends each night looking out his prison window across the way at an Armenian couple, Tigran (Hovik Keuchkerian) and Ruzan (Narine Grigoryan). Their relationship is Charlie's only reflection of the real world outside the prison. Soon a distant and unspoken relationship between Charlie and Tigran develops. But time for Charlie is running out as he is being sent to hard labor in Siberia.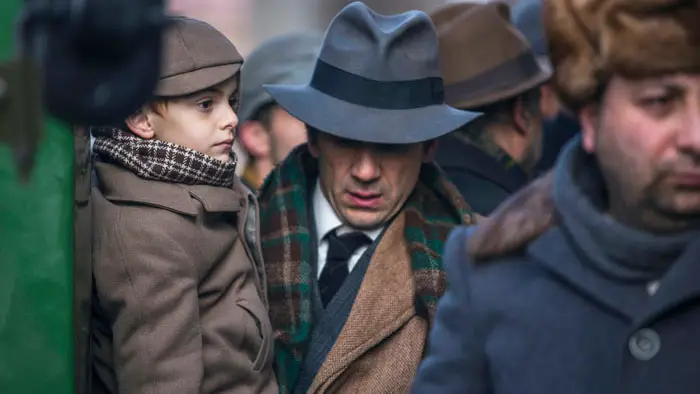 "…Charlie inadvertently confesses to being an American spy and is sentenced to ten years in prison."
Considering the subject matter, Amerikatsi has a lot of charm amid the tragedy, and it all comes from writer/director/star Michael Goorjian's performance as Charlie. Throughout the entire film, I kept getting vibes of Life is Beautiful… though the stakes are maybe a notch or two lower. Tonally, this comes off as a comedy of old. Goorjian brings humor and pathos to Charlie, which makes his tragic events somewhat palatable.
Goorjian is simply perfect as the somewhat naive Armenian patriot. From the start, he's a man who merely wants to reconnect with his cultural roots and quickly finds himself alone and in over his head. His plight is heartbreaking, and we're right there in prison with the lead.
Goorjian then shifts the narrative to tell a story of hope and integrity. When placed in an impossible situation, Charlie endures and fights to survive. When given a chance to help a complete stranger, Tigran, humanity compels Charlie to do the right thing — a message we all need to embrace.
In Amerikatsi, Michael Goorjian channels his inner Roberto Begnini and even Charlie Chaplin to bring humor and levity to a solemn subject. But the best part is he shines a light on the Armenian people and their resurgence to re-establish their culture after great tragedy. Hopefully, this is one of many stories about Armenia and its long-suffering people.
For screening information, visit the Amerikatsi official website and our interview with writer/director/star Michael Goorjian.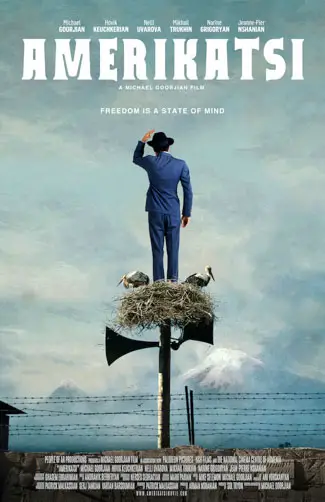 "…channels his inner Roberto Benigni and even Charlie Chaplin to bring humor and levity to a very serious subject."