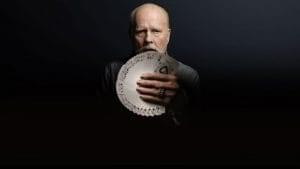 Fan of magic? I mean real-fake magic. That close-up card magic. Richard Turner is one of the world's best card mechanics. He can shuffle a single deck of cards in a variety of ways, over and over again. Every move is clean until he hands you that deck of card in sequential order. Then he proceeds to deal you aces from the bottom of the deck, the middle of the deck, and the second card from the deck. Dealt is the story of card sharp Richard Turner's life as told by director Luke Korem and writer Bradley Jackson. Oh, did I mention Richard Turner is blind? If Turner had his way, you would never know.
At a very young age, Richard Turner began to suffer from a form of macular degeneration.  It started with blurring vision, then moved to a dark circle obstruction his sight that grew to complete blinding. A proud man, Turner felt the shame of being "blind" and kept his condition a secret as best he could. Instead of seeking assistance, like learning braille, using a stick or seeing eye dog, Turner chose to live as much of a normal life as he could.
"Richard Turner is one of the world's best card mechanics."
Richard Turner soon married, started a family, learned to ride a motorcycle, earned a black belt in Karate, and dedicated his life to becoming the best card mechanic in the world. His lifestyle is a study in discipline. Turner works out, swims and practices card manipulation sixteen hours a day, always with a deck of cards in his hand. For many documentaries, this is the story—Overcoming obstacles.
Richard was not the only person in his family to lose their eyesight. There is his sister, Lori, who suffered from the same plight, except she lost her sight instantly. She could have easily gone down the same path as her brother if it were not for an injury to her husband, that left her alone to fend for herself. While Richard had his wife Kim and son Asa Spades to lean on literally, Lori found herself in need of help to accomplish the simplest of tasks.
"Turner felt the shame of being 'blind' and kept his condition a secret as best he could."
Often documentaries retell the stories of their subjects. In the case of Dealt, Richard Turner's fall from stubborn denial is captured on film. Life changed for Turner when his son, Asa, goes away to college. Richard relied on Asa to be there at every show and appearance. Never acknowledging it, Asa was clearly Richard's seeing-eye dog. With only his wife Kim by his side, Turner is forced come to grips with his blindness and accept it as an integral part of his being.
In Dealt, director Luke Koren masterfully tells the story of a man, who through hard work and discipline overcame his disability. It captures a great man's life in transition that most documentaries don't ever get to show. It's one thing to overcome a disability, but it's another to accept who you and that includes the good and the bad. Also, there's a lot of really cool magic.
Dealt (2017) Directed by Luke Korem. Written by Luke Korem and Bradley Jackson. Starring Richard Turner, Kim Turner, Asa Spades Turner, Lori Dragt.
4 out of 5 stars