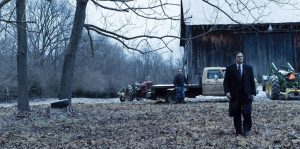 Unlike most film critics, I am not a Todd Haynes admirer. His films are dull, sterile, pretentious award-baits. Their gloss, sophistication, and technical savvy masquerade a dearth of true feeling. A visionary filmmaker he's not. If anything, his oeuvre harks back to the good ol' films of yore, with minimal stylistic flourishes but perfectly-framed, statuesque heroes standing for a cause, fighting injustice, or falling victim to it. My wife and I still joke about the time we sat through the entire six hours of Haynes' five-part miniseries Mildred Pierce – one of the most underwhelming, not to mention boring, viewing experiences in my life.
Similarly to the filmmaker's others heralded "masterworks" – Carol and Far from Heaven – Dark Waters is a bleak, formalist study of an undeniably compelling subject. In this case, Haynes follows the righteous, years-long journey of a corporate defense attorney, who stands up against a chemical conglomerate, exposing a history of pollution in the process. There has never been a film like this. Except, you know, The Verdict, The Rainmaker, A Civil Action, Erin Brockovich, North Country, Michael Clayton, Spotlight – and, most recently, The Report, to name a few.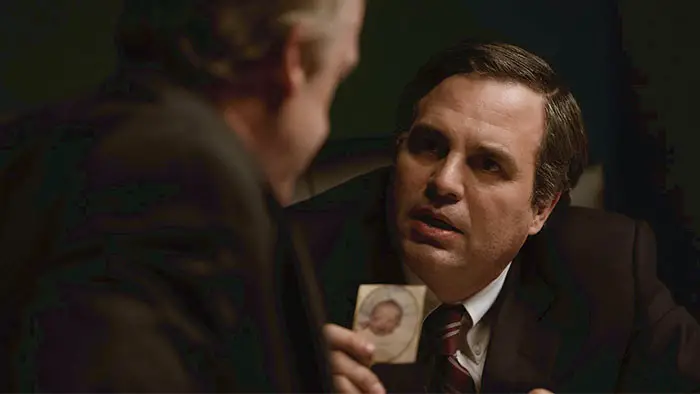 "Robert decides to take the case, becoming something of a whistleblower, using all the information at his hands against the giants that shaped him."
That's not to say that David vs. Goliath stories such as this should not be made. Au contraire, those real-life stories of heroes, underdogs we can all relate to, make for some of the most fascinating character studies – if told with enough passion, verve, and penetrating insight (see my recent review of Clint Eastwood's Richard Jewell). Sadly, Dark Waters fails on all these accounts. Aside from a strong central performance, and Haynes' signature mastery of camera placement, this film even lacks the colorful art direction and costume design of Carol and Far from Heaven – which livened them up to a certain degree, and the lack of which makes his latest outing an almost unbearably-dreary, butt-numbing experience. Leave it up to Haynes to tell an intriguing tale in the most pragmatic, straightforward way possible.
Mark Ruffalo plays said defense attorney, Robert Bilott, a self-made man from provincial West Virginia, recently promoted at a prestigious firm whose focus lies in defending chemical companies. All is gravy, until Bilott's past surfaces in the form of Wilbur Tennant (the chameleon-like Bill Camp). Hailing from Robert's birth town, Wilbur literally shows up at the attorney's office with a box of videotapes that contain proof of major contamination in his farm. Hesitant at first, Robert decides to take the case, becoming something of a whistleblower, using all the information at his hands against the corporate giants that shaped him.
Robert methodically sifts through hundreds of boxes of "evidence," sent to him by the evil conglomerate, Du Pont, led by Phil Donnelly (Victor Garber). "Better living through chemistry is not just a slogan at Du Pont," Phil says, "it's in our DNA." What's also in their – and all of our – DNA, as it turns out, is an unregulated "forever chemical" called PFOA, found in Teflon, which has been proven to cause, among many things, birth defects and cancer. Du Pont, who makes over $1 billion in profit from selling Teflon, isn't prepared to go down easy, with scientists in their pockets. As Robert fights the good fight, the media discredits the now cancer-ridden Wilbur for suing the "town's main employer."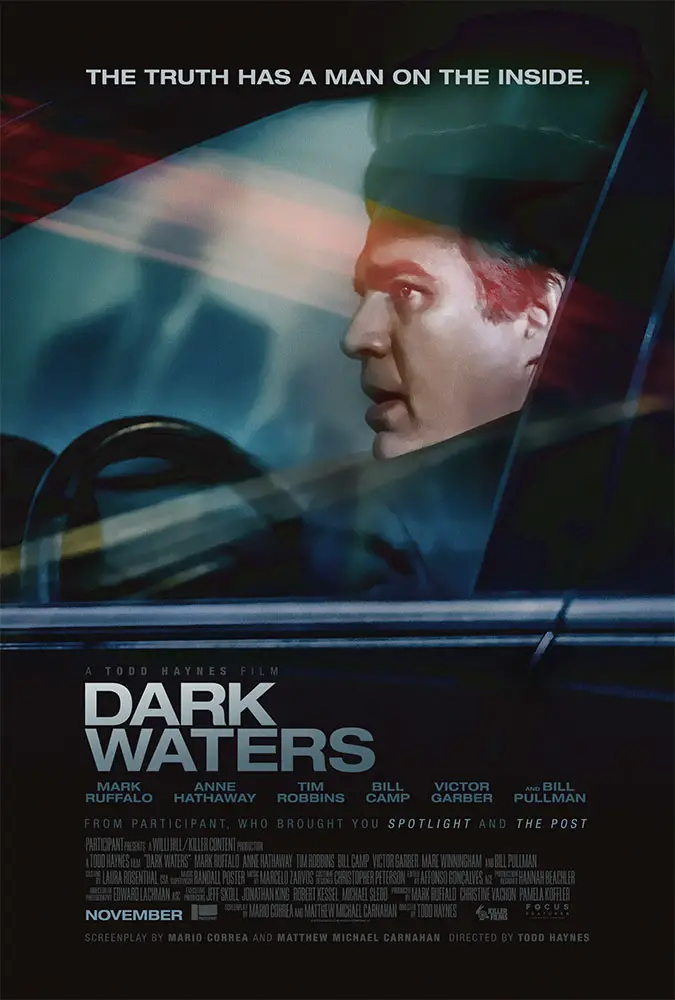 "…memorable moments involving cows – a POV of a rabid cow; 190 cow graveyards..."