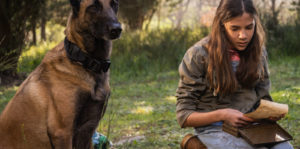 Director Kirk Harris' family film Dakota is a variation of the classic tale of an American war widow who is struggling without her husband. Kate (Abbie Cornish) lost her husband Clay in the war in Afghanistan and is about to lose her family farm in a small rural town. She runs the farm with her daughter Alex (Lola Sultan). Kate is trying to keep up with the daily tasks of the farm while also serving as the fire chief for the volunteer fire department.
While Kate has been keeping the situation on an even keel, she's not as handy as one would hope. When her husband's war buddy CJ (Tim Rozon) arrives on the scene with Clay's service dog, Dakota, Kate asks him to hang around to help with some of the more involved repair tasks. Dakota, traumatized by war and the loss of Clay, doesn't integrate with the family immediately. Alex doesn't accept her right away either, as the connection between Dakota and Clay is too immediate and reminds her that her dad is gone. Alex would rather have her father back than his dog.
The farm is in debt, as many American family farms are, and Kate is struggling but determined to find a way to save it without spending any of the insurance payout that Clay had earmarked for Alex's education. Kate's situation is bad, but it gets worse when the unscrupulous town sheriff, Danforth (Patrick Muldoon), announces he means to buy the property the farm sits on. Danforth has had an axe to grind since his family lost the land in foreclosure. He wants it back in the worst way, having discovered a secret about the land that no one else knows. He's willing to use intimidation and abuse his authority to get Kate to sell. In the ensuing conflict, the family pulls together, including a congenial part by William Baldwin as Kate's father, Monty. Clearly delineated "Good" squares off against "Evil" in a cage match showcasing rural American values.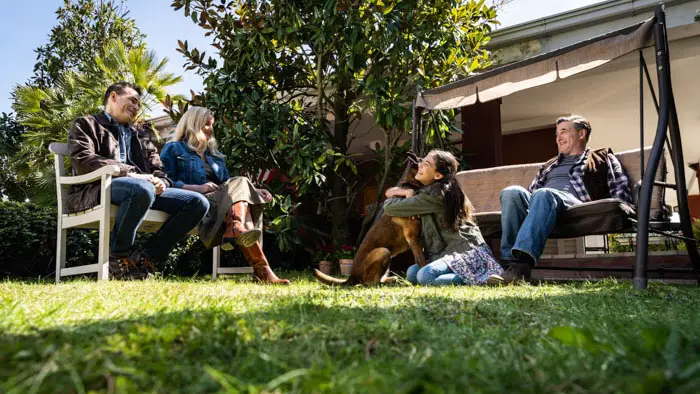 "Alex would rather have her father back than his dog."
While Dakota touches on the darker themes of loss and avarice, it maintains a wholesome vibe throughout. The outcome is a foregone conclusion, but the performances make it a comfortable and enjoyable ride to get there. Sultan carries the film, with Cornish as a close second. Of course, the film wouldn't work at all without the beautiful titular character, played by two different Belgian Malinois performers: Ashley and Nikita. If you like dogs, these two are delightful.
Muldoon delivers the nefarious Sheriff Danforth with an understated malice that works beautifully. As an actor, he is gifted with a face that seems to be twisted into a permanent sneer. Perhaps he is a perfectly nice person, but you'd never know by looking at him. The combination of the sneer plus his solid portrayal locks in the audience's loathing within seconds of his entrance. Then, of course, when he inevitably threatens Dakota… well, now he's an enemy of the people.
Dakota isn't high art. Keeping it well within the family-friendly guardrails makes the action a bit toothless. War scenes are muted and without any violent details. Any danger present is low-stakes. It's clear that no one is really going to get hurt. For a family film with after-school-special vibes, it lands exactly where it should. Dakota and Alex take center stage with a story and characters that are engaging for kids and make for distracting cinematic "comfort food" for adults.
For screening information about Dakota, visit the Samuel Goldwyn website.