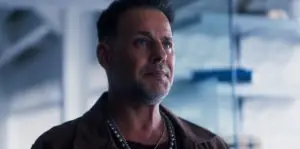 Yadhu Krishnan's feature-length debut, Crossfire, tells an oft-told tale. But the dramatic thriller stars the underrated Louis Mandylor and Kevin Gage, which instantly ups its appeal. Can the writer-director add enough twists and character depth to make the narrative feel fresh?
F.B.I. agent Mark Patson (Mandylor) is quite accomplished in his career. He's taken down some of the most notorious domestic and international terrorists threatening the security of the United States. His most recent mission sees Mark taking down the notorious Gorilla Gang. But unfortunately, the surviving member of the gang kills his wife, which sends Mark on a downward spiral.
Years on, Mark wants to reconnect with his estranged daughter, Alicia (Samm Wiechec). She's reluctant but does stay with him during school break. Alicia and family friend Maryam (Lori Pelenise Tuisano) quickly hit it off, though the daughter is still cold toward her father. However, all three are unaware that the same killer from years earlier is back to finish the job. In order to survive, Mark and Alicia must learn to trust one another again and fight for their lives.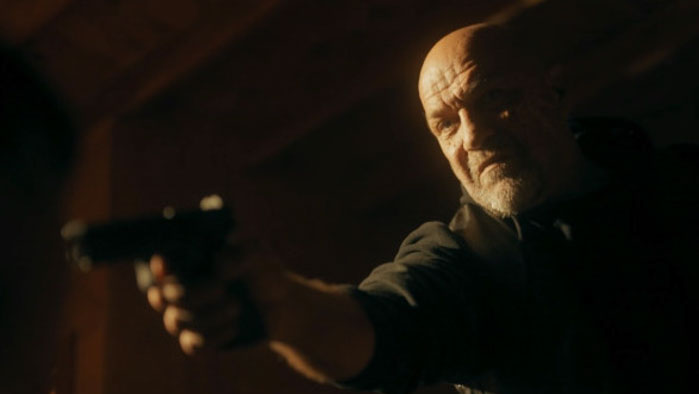 "…all three are unaware that the same killer from years earlier is back…"
Crossfire is ostensibly a thriller, though, for the first hour or so, one won't know that. Krishnan takes his time to develop Mark, Alicia, and their dysfunctional dynamic. For example, Alicia's stipulation for staying with her dad is that they do not bother each other. Of course, there wouldn't be much of a story if both of them stayed true to that, but its inclusion clues audiences into Alicia's mindset regarding her living parent. Maryam takes Alicia out and introduces her to several people who owe a debt to Mark. It's an interesting little scene recontextualizing what Alicia and audiences thought they knew about the lead character.
But what of the action beats and thrills? Once the killer reemerges, the film ably transitions from the drama to the more tense beat 'em up the poster is selling. The fisticuffs and gunplay are pretty exciting.
But it is the cast of Crossfire that really anchors the proceedings. Mandylor is excellent, conveying his character's brokenness and eagerness to mend things well. Wiechec plays the frustrated daughter gracefully, plus she and Mandylor play excellently off each other. Tuisano is tons of fun, bringing some needed levity as the straight-shooter Maryam.
Crossfire is not particularly original, but it makes up for that in several ways. Krishnan's focus on character over action adds depth. The cast is solid, with Mandylor delivering a career-best. While those hoping for a hard-hitting actioner might be disappointed, anyone who prefers their genre picks with characters to root for will be highly entertained.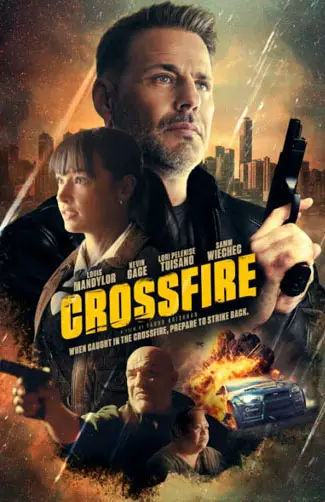 "…Mandylor deliver[s] a career-best."