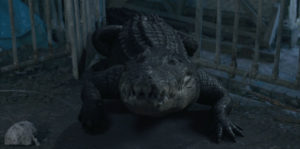 Despite what Martin Scorsese says, every movie doesn't have to be high art to be enjoyable. Sometimes you want to throw on a B-movie and laugh at the absurdity of it all. Writer/director Paul W. Franklin's Croc! is one of those flicks.
The story takes place in the English countryside, where Lisa (Sian Altman) and Charlie (George Nettleton) prepare for their dream wedding at a secluded Tudor mansion. The major problem is that there's a crocodile on the loose, and it's out for human blood.
A crocodile eating guests at a wedding is a concept that you're either in or out of from the start. If you're here for it, rest assured the film delivers on that simple premise. The CGI is quite low budget, but Franklin's way of shooting the kills is effective. The filmmaker leaves a lot of it off-screen, so it's up to your imagination to fill in the gaps. I wish more indie filmmakers would employ this Spielberg-like method because too many try to show everything, and on a low budget, it usually looks pretty bad. Your imagination is the best CGI there is, which is to Paul W. Franklin's credit for figuring out.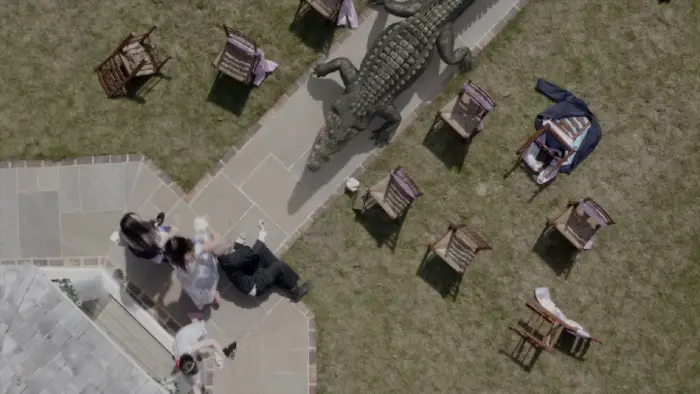 "…there's a crocodile on the loose, and it's out for human blood."
Croc! starts with some characters engaging in sexual activity and questionable morality, which usually equates to death in horror movies (AKA the rules to surviving a horror movie that the character of Randy spouts off in the original Scream). Some characters pay the price, but others are only injured, so the film keeps you guessing who will survive since the rules have been subverted. I also liked that aspect because some horror titles can be too predictable when they follow the rules precisely.
The cast plays the whole absurd concept seriously, which I appreciated. The father of the bride, Dylan (Mark Haldor), is the spitting image of actor Jason Momoa. It feels like you're watching Aquaman in this movie, and the character even absurdly wants to save the crocodile rather than kill it like everyone else wishes to. That kind of silliness is what adds to the fun factor of these kinds of movies. The character of Reverend Jackson (Chris Cordell) is another fun addition. There's a big dialogue scene between him and Charlie about why this is all happening, and the Reverend always keeps it real with the frightened wedding guests.
Croc! is so bad that it's good, much like for the people who enjoy the similarly absurd Sharknado films. There's one scene where the croc has ripped open someone, so their intestines are hanging out, and it looks so cheesy because of the low-budget effects you have to laugh.
There are plenty of people who will probably say that Croc! is trash, and they're absolutely correct, but it's beautiful garbage to me. It's all in the eyes of the beholder. That's why the show The Last Drive-In with Joe Bob Briggs on Shudder is so popular. There's an audience who clamors for these types of movies. Hopefully, you, too, can let go and just enjoy the madness.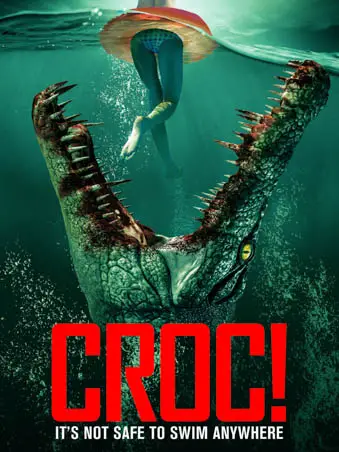 "…so bad that it's good..."