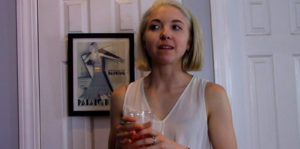 In Credits Among Friends, directed by Alexis Ramirez and written by Stephen Olson, a group of friends have a movie night reunion which gets heated when secrets are revealed. Brian (Dustin Teuber) brings his new date, Julie (Dominique Alessi), to movie night. Unbeknownst to everyone at the party — James (Michael Paone), Kat (Jennifer Agatte), and Sherrie (Stephanie Falciano) — all the secrets revolve around this new interloper. As the night goes on, and the secrets come out, some awkward conversations are had among the friends (no pun intended).
Credits Among Friends sounds like a good idea on paper and in discussion. The interesting thing about the movie is that the filmmakers used another film they shot, which looks like it was from the early 2000s. They then built a premise around it to use it in this newer short film. Now where this film loses me is the execution as a whole. The image quality threw me off quite early, as I found myself trying to get past it for most of the runtime. Along with the image quality, the sound quality is not much better, as some of the dialogue is drowned out by background noise.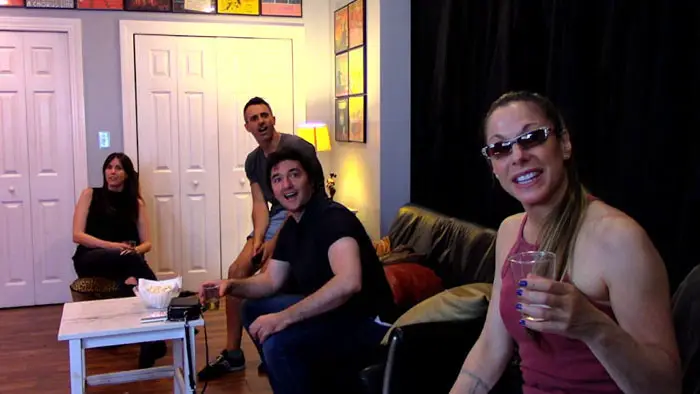 "…a group of friends have a movie night reunion which gets heated…"
As the acting goes, it is hard to see the chemistry between any of the characters. When you have a number of characters in the story, one would think that there would be some interaction between these friends to show the chemistry or lack thereof. Oddly enough, Credits Among Friends rarely has more than one character on screen at once. The constant cuts when transitioning from character to character did not make it any easier – even having lines of dialogue cut off mid-sentence because it transitioned to another character speaking. Sometimes the cuts did not have anything to add to the story as it would just show a character staring into the camera without saying anything or reacting to what was said.
Sometimes you can tell the budget of a film by the quality. This particular short was likely in the lower budget range, and it's not fair to judge it as if it were a higher-budget title. What Credit Among Friends felt like to me was just a bunch of real friends getting together to make a fun idea happen. The idea is that the group of friends get around to watch really bad movies with each other and pick them apart, and that movie they watch looks like a film they actually made years ago. And really, when it is put in that way, there is nothing at all wrong with that. That is, if that is what actually happened with this production.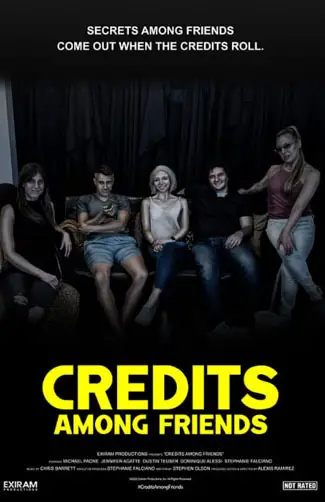 "…sounds like a good idea on paper..."