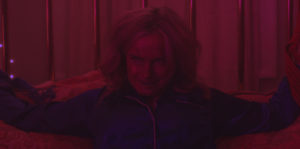 Jono Mitchell and Madison Hatfield have teamed up together on several shorts. Now, the writing-directing duo has unleashed the feature-length Courtney Gets Possessed. The film is part family drama, part romantic comedy, and part horror. Is that too many genres mashed together, or do the filmmakers mix them into a devilishly good cocktail?
Courtney (Lauren Buglioli) is attending her cousin's wedding but is not having fun. Why? Because said cousin is marrying Courtney's ex. But, in this sullen state, she meets a guest unknown to anyone else there, Dave (Jonathon Pawlowski). The two flirt and wind up having a fling. Years later, it is the eve of Courtney's wedding to Glen (Zae Jordan). After the maid of honor, Lexi (Aditi George), fails to get everyone excited about "pin the nose on Courtney," there's a knock at the door. And who should it be but Dave?
Courtney's thieving sister Caitlin (Madison Hatfield) lets the man in only to realize it was a mistake. See, Dave is the devil himself, and he is here to claim his hell bride, Courtney. No one believes it at first, but no, Dave is the Satanic overlord of hell and has no scruples about torturing all present to get his way. Eventually, Dave possesses Courtney and has no intention of letting her go. Can the wedding party put aside their petty differences to save the bride-to-be? Why is that pizza guy so hot?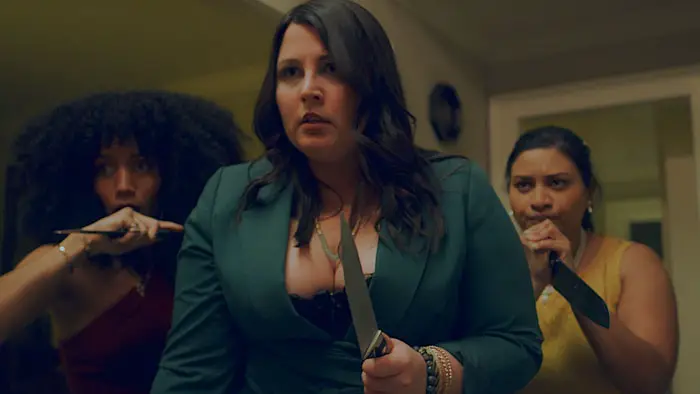 "…Dave is the devil himself, and he is here to claim his hell bride…"
Courtney Gets Possessed is tons of fun from start to finish. While it is never outright horrifying, several moments are suspenseful or eerie. Dave convincing Caitlin to cross the salt line into a room is filled with dread. The family drama and comedy land at every turn. The rift between Courtney and Caitlin is believable and heartfelt. Every line about the super good-looking pizza delivery man (Spencer Mumford) is comedy gold. Mitchell and Hatfield ably use each genre they're playing with to amplify the others without sacrificing what makes each one work on its own.
When mixing so many seemingly disparate elements, even the best writing could land flat if the cast does not understand the assignment. Happily, every actor is ideally suited to their role. Jordan is fun and sweet, while George has remarkable comedic timing. Hatfield understands the narrative's pathos well, delivering some of the most tender moments with appropriate weight. And yes, Mumford is very good-looking for the record. But the stars of this enterprise are Buglioli and Pawlowski. Buglioli has a tricky role in that she has to be a sad-sack, sweet, a little selfish, and genuinely caring. That is a lot for one performer to do, but as the titular character, Buglioli embodies every aspect and emotion with ease and excellent physical comedy. Pawlowski is so effortlessly charming that it is no wonder people are drawn to him. He transitions from level-headed, if bossy, to frightening with reckless abandon. The two play off each other remarkably well and own the crazy twists the story takes.
Speaking of, parts of Courtney Gets Possessed are easy to figure out. This does mean some scenes feel more like a waiting game than adding to the momentum. Specifically, given how many times Caitlin stealing clothing or jewelry from Courtney gets brought up, there's only one obvious solution to a particular Satan-based conundrum. Dramatic irony is all well and good, but there's a point when it becomes too stretched out to work. Still, the ending works and is both very funny and sweet at the same time.
Courtney Gets Possessed possesses minor issues in that some sequences in the middle drag. But everything else about this highly original film is expertly handled. The cast is beyond fantastic. The writing and directing ensure each genre mixes nicely with the other, creating a fun, funny, dramatic world that also features a few creepy moments.
For more information, visit the Courtney Gets Possessed Facebook page.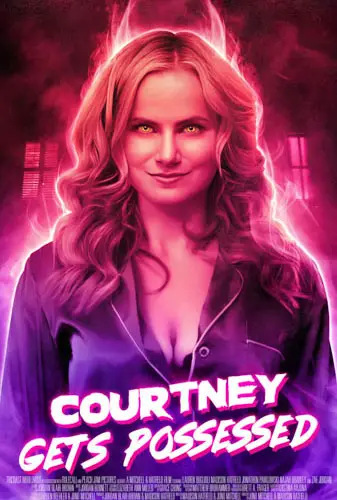 "…a fun, funny, dramatic world that also features a few creepy moments."