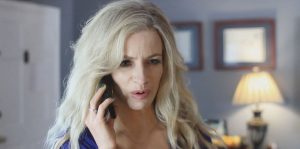 As they say, the winner is the first to cross the finish line. The winner of the first Coronavirus horror film race goes to Corona Zombies, from Full Moon Features. It's a spectacular feat, but how exactly do you make a zombie movie, while practicing social distancing and have a cast and crew of only two to three people? The answer is simple – combine two existing movies, Hell of the Living Dead and Zombies vs. Strippers, redub all the dialogue, and add a scene or two with the film's only real actress, Cody Renee Cameron.
So here we go. Ripped from the headlines, Charles Band's Corona Zombies opens with the real pandemic that is currently spreading around the world, known as COVID-19. Unlike reality, those who die instantly turn into flesh-eating zombies.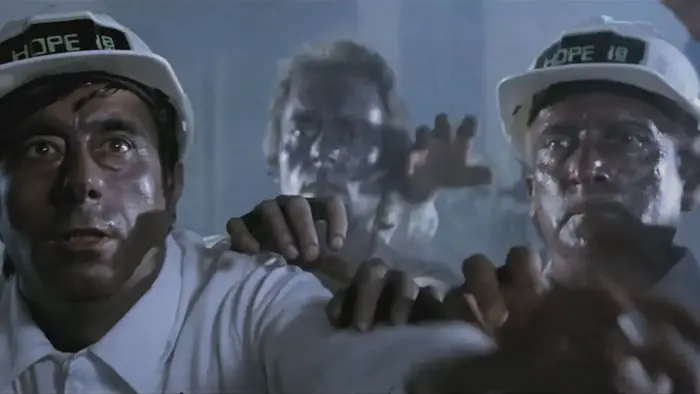 "…Barbie is in trouble as she discovers she's out of toilet paper and has nothing to…"
Our story begins with the young millennial Barbie (Cody Renee Cameron) talking on the phone with her best friend, Kendra (Robin Sydney), complaining about the lack of hand sanitizer at the stores. Soon, Barbie is in trouble as she discovers she's out of toilet paper and has nothing to…you know (paper towels are just too rough).
As Barbie begins to panic, she turns on her television, showing nothing but wall-to-wall coverage of the COVID-19 pandemic. News reports reveal that the Corona Virus was created at the Scambell's Soup Factory in Wuhan, China, from a bad batch of "bat soup." Luckily cameras were there to capture the zombie outbreak in the soup laboratory. Oh, the horror.
Meanwhile, back at home, dozens of citizens have decided to defy state-imposed voluntary lockdowns and instead patronize a local strip club. Quickly, the zombie menace turns a pleasurable evening of dancing and frivolity into a cannibal orgy. EVERYONE, PLEASE STAY AT HOME!!!
"…I'm also impressed with how timely the film is about its virus information..."