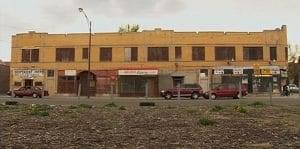 Documentarian Judith Helfand has long been known to either produce or direct films that address the human side of environmental decline and collapse, which is something we're all becoming acutely aware of due to the nature of capitalism and industry. Instead of talking about the perils of our future, which is a hot topic in the documentary arena, in Cooked: Survival By Zip Code, Helfand visits past "natural disasters" to see what part society played in letting them happen.
The film starts with Helfand going to stay with her mother in Westchester County, New York, during Hurricane Sandy. Beforehand she visits her brother who has the entire situation figured out, with generators, power strips, axes, shovels, and even a boat in case they need it to escape. While at her mother's apartment, she finds an entire community of people on the floor of her apartment who are checking on each other once the electricity goes out.
Inspired by her experience during Sandy, and more importantly by the experiences of people less fortunate than she, Helfand learns more about the human side of natural disasters and disaster preparedness. This brought her to the heatwave Chicago experienced in 1995. I am somewhat embarrassed to recount that I do not remember hearing about this at all. Granted, I was 12 and living in the suburbs of Atlanta, Georgia and probably more interested in watching Beverly Hills 90210 than anything else, especially the news.
There's also the fact that the aftermath of this catastrophic event was not reported as widely as it should have. This is part of what Hefland discusses in Cooked. Since the victims of the '95 heatwave were largely poor, seniors of color, public interest in the story waned. Mayor Richard M. Daley refused to believe that the death tolls were getting as high as they were, eventually ending up at 726 people, simply because of the heat. The cognitive dissonance, as usual, amongst people of power and privilege is astounding. Daley went on to blame family members of the deceased, saying that the people died because they weren't checking, not because of the more apparent glaring issue, poverty.
"Since the victims of the '95 heatwave were largely poor, seniors of color, public interest in the story waned…"
The South and West sides of Chicago have been poor areas for as long as I can remember hearing about them. All of my friends that are from Chicago are from, to be quite frank, the white parts of town. The only exposure I had with the Southside of Chicago via the media has been through movies such as Spike Lee's Chiraq and now Cooked.
Helfand interviews people who worked for the city during the heatwave. Including Dr. Linda Rae Murray, former Cook County Chief Medical Officer, who had this to say about the use of refrigerated trucks to hold the excess bodies which fell victim to the heat wave.
"The refrigerator trucks means there's so many bodies that the coroner doesn't have room for them anymore. That's enough. You know, right there, you were in trouble."
The thing that is so sad about the heatwave deaths is that many of these people suffered deaths simply because they were too afraid to open their windows, due to the crime rates in the neighborhoods they inhabited, and also they couldn't afford air conditioning. The police departments had cooling stations, but because of the relationship with cops and people of color, it's somewhat understandable why they weren't used.
The story behind Cooked is about our society's overwhelmingly embarrassing ability to ignore the problems that are right in front of our faces. Poverty and racism are concepts we are confronted with every day, but if we're privileged enough to ignore them, you bet we're going to do so.
Mike McReynolds, a former intake supervisor for the Chicago coroner's office says "There's a saying in Chicago, everything is about race. The majority of people that died were minorities, mostly poor. You don't have to be poor to be black. You don't have to be black to be poor, but…."
Helfand asks Dr. Murray if she's enraged by the overall lack of attention paid to this crisis.
"…our communities, especially the poorer ones, that are already experiencing a 'disaster in slow motion.'"
"James Baldwin said that being black in America is being enraged almost all the time," Dr. Murray responds, "and so in that spirit, I am enraged almost all the time. I am of that generation so yes I was enraged. Was I surprised or shocked? No. I know what happens during heatwaves and I know that the city was not responding accordingly."
Helfand goes on to say that these sorts of natural disasters, which extend to such events as Hurricane Katrina in New Orleans, or more recently, Hurricane Maria in Puerto Rico. There is more focus put on preventing unlikely emergencies by government agencies, than improving conditions in poverty-stricken regions, which are the most vulnerable to disaster events.
We visit disaster prevention conferences, and we also meet several people in organizations that are trying to improve the most underserved communities. Essentially, Helfand is trying to state the point that a lot of natural disasters could be prevented if we paid more attention to building our communities, especially the poorer ones, that are already experiencing a "disaster in slow motion."
Cooked: Survival By Zip Code is a much-needed slap in the face to the American people, particularly rich white people (who are in charge of everything in case you didn't know). It's time that those of us with privilege do something to help those who don't. This first means that people need to realize they are privileged to begin with, which might take some hardcore finagling to make happen. Helfand made a valiant effort at leading the charge with this documentary, however. It's going to piss you off, but that's what we need. We need to know what's going on in the world so that we can change it, hopefully for the better, before it's too late.
Cooked: Survival By Zip Code (2018) Produced and Directed by Judith Helfand. Starring Eric Kleinenberg, Alberta Washington, Linda Rae Murray, Mike McReynolds, Maureen Finn, Maurgertie Gatling, Sterl Gatling, Edward Donoghue, Andy Nebel, Steve Whitman, Geraldine Flowers, Orrin Williams, Sheelah Muhammad.
7 out of 10 Stars