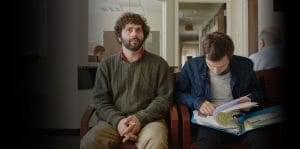 The trend today in comedic films is less joke telling and more humorous situations grounded in reality. Wacky setups and one-liners replaced by real situations turned on its head. I'm a personal advocate for this trend, but a comedy that is too grounded is no longer a comedy but a drama and a lite one at that.
From writer/director/star Max Azulay comes 5 Doctors. The story of Spencer (Max Azulay), a struggling comedian, who returns to his Midwestern home to see his five childhood doctors to treat him for his unknown ailment. Spencer's return is meant to be quick and uneventful. He's in, and he's out with minimal fanfare.
Before leaving, Spencer was somewhat of a b-list local celebrity gaining mild notoriety in school plays, and probably part of some improv team (I'm guessing on that part). Spencer moves to Los Angeles for stardom, which comes through a viral video and a potential sitcom role.
"Spencer's return is meant to be quick and uneventful. He's in, and he's out…"
Spencer's home for a much-needed health check-up. The seriousness of his condition is the film's central thru line. He enlists old schoolmate Jay (Matt Porter) to take time off work as a teacher and drive him to his appointments. Jay has explicit instructions to avoid being seen by everyone, especially his mother Ellen (Ann Gulian) and sister Jo (Zoe Azulay).
Jay agrees, even though Spencer has not seen nor talked to Jay since he left for LA. The reunion between Spencer and Jay is cordial but awkward. In between appointments, Jay takes Spencer back to their old high school, where Jay is a teacher. Spencer also takes the opportunity to reconnect with this former drama teacher and get the scoop on Jay's current crush Lisa (Emily Walton).
Spencer's journey touches on the theme of returning home. Spencer is hardly a star in Hollywood. Now he is confronted with his past and facing his unfulfilled potential when forced to return, even for a day. Let's not also overlook the reason Spencer has five doctors to see. What's wrong with the dude?
"…it's unrelenting slow walk into a valley of depression."
You can't call 5 Doctors a comedy by any stretch. It's a drama in desperate need of comedic moments to break-up its unrelenting slow walk into a valley of depression. There are a few funny moments. The Bobby Moynihan cameo is hilarious. It's the sadness of the main character, Spencer, often rubbed off on me while watching the film. The titular "5 Doctors" gimmick is an interesting idea, but only the fifth doctor is important to the story.
There's nothing wrong with comedians wanting to make a dramatic film. Some of the most insightful performances come from comedians. I've seen a lot of bad acting in films touching on this theme. Both Azulay and Porter give good performances with strong potential as both actors and writers. The biggest downfall of 5 Doctors, the story's unrelenting low-energy tone. It lacked big moments, both funny or sad, to keep the audience awake.
5 Doctors (2018) Directed by Max Azulay and Matt Porter. Written by Max Azulay, Matt Porter, and Phil Primason. Starring Max Azulay, Matt Porter, Emily Walton, Eddie Pepitone, and Joe Pera.
2.5 out of 5 stars