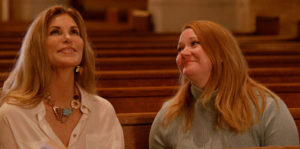 When life has kicked you to the curb, the only ones you have to rely on are your family. Such is the story of sisters Faith and Hope in co-directors Joe Gawalis and Jody Mortara's family comedy, Cocoa.
Cocoa follows Faith (writer Mortara) and Hope (Megan McGarvey), two sisters who have hit their financial rock bottom. Faith's divorce has left her penniless, while Hope abruptly decided to quit her go-nowhere job. With only each other to lean on, Faith reminds Hope that she used to make an amazing chocolate cake. This reminds Hope that she discovered a secret ingredient during her world travels that increased one's metabolism. In other words, the sisters could create a chocolate cake that will cause you to lose weight.
On the other side of town is Lucas (Cedric Gegel), the nephew of the town's mafia don, Carmine (Tony Cucci). He wants to be part of the family "business" and to prove himself to Carmine. Therefore, Lucas needs to present a surefire business plan. Running full circle, he immediately ingratiates himself with wealthy socialite Jacqueline (Marian Edmiston). Jacqueline meets Faith and Hope to discuss funding their diet chocolate cake venture over dinner and ending with their signature calorie-consuming dessert. Lucas comes along as Jacqueline's consultant.
After hearing the sister's plans, Lucas decides to steal one of the cakes and present it to Carmine. Of course, Carmine orders Lucas to get a hold of that secret weight-loss ingredient at all costs. Opportunity strikes when Cocoa, Jacqueline's dog, eats the chocolate cake and is rushed to the suspect veterinarian, Dr. Dogwood (Pat Swearingen). Now Lucas can ransack Hope's home for the recipe. Adding to the hijinks is a bumbling terrorist and intrepid news reporter Christina Portenza (Siena D'Addario).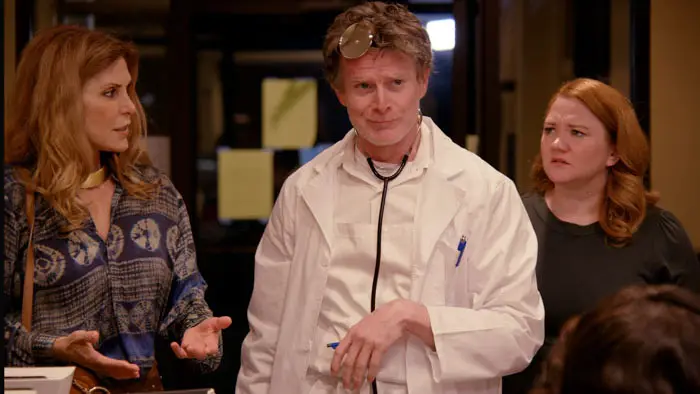 "…they could create a chocolate cake that will cause you to lose weight."
Cocoa is definitely not for everyone, as it has a specific audience in mind. It fits squarely in the family-friendly category where silliness abounds. Though the stakes sound high, our adventure is a very light, safe comedy. This is about as far from high art or dangerous dark comedy as you can get. I'd give it a six on a scale from one to ten. That's not bad because the film is clearly shooting for a six. It's a female-led production with writer/director/star Jody Mortara at the helm, and she's aiming for fun.
Speaking of fun, the acting is quite good. It's weird to say this, but films with the budget and the stakes of this production tend to hire friends and family as actors with minimal experience. Here, no one is phoning their lines in, which means this cast believes in the film, and it shows. Every scene felt rehearsed; believe me, other indie comedies rarely put in the acting effort to be prepared. We're not Strasberg here, but the actors give good performances nonetheless.
The bright spots in Cocoa are Mortara and McGarvey. They contrast nicely as sisters. Mortara, as Faith, the famous sister who's ridden that popularity for most of her life, is convincing. Hope is the bubbly-optimistic not-as-popular sister, and McGarvey plays the more innocent role with conviction. Of course, the two rely upon one another to find their happy ending, and the actors share nice chemistry.
Cocoa is one of those films you'd put on when your traditional American family comes over and wants to watch something silly and safe. It could easily find a home on the Hallmark or GAC Network.
For screening information, visit the Cocoa Facebook page.