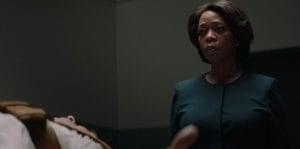 NEW TO HULU REVIEW! Years of carrying out death row executions have taken a toll on prison warden Bernadine Williams. As she prepares to execute another inmate, Bernadine must confront the psychological and emotional demons her job creates, ultimately connecting her to the man she is sanctioned to kill.
Clemency opens with one of the more powerful cold opens in recent memory. There are no major special effects, no chase scenes, no one-liners. Instead, we are on death row at an unspecified state prison during the final moments leading up to the execution of a man. Warden Bernadine Williams (Alfre Woodard) solemnly leads the procedure as Chaplain Hendriks (Michael O'Neill) attempts to keep the prisoner calm. A curtain is pulled back allowing a small gallery of witnesses to see the lethal injection be administered. Then something goes wrong. So wrong that the prison spends the rest of the film dealing with legal repercussions.
"…that Clemency attempts to humanize all angles of the situation and the very real toll it takes on all those involved."
Warden Bernadine is spent after the opening debacle but has little time to collect herself. Death row inmate Anthony Woods (Aldis Hodge) is next on the docket and with protestors outside the prison walls and Woods' lawyer Marty Lumetta (Richard Schiff) in her office screaming for leniencies, it is fully understandable that she spends her Friday nights with a few people from the office at the dive bar nearby.
"…a staggering achievement in its portrayal of a story that we often ignore..."