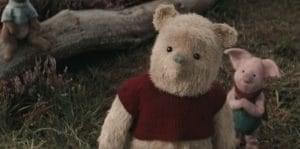 It's a shame when you sit down in your movie seat, and before the first frame is flashed on the screen, you already know the story, plot, and ending. Such is the case with Disney's Christopher Robin. Despite its overused plotline, the film works. It exudes charm. It makes you laugh at the silliest things, and it tries hard to make you cry. Although, this critic stood strong. Take that, Disney!
Before I describe the plot, just know what I'm describing is not Mary Poppins, but it is in fact, Christopher Robin. The film opens with essentially a live-action version of the original Disney's Winnie the Pooh. Young Christopher Robin (Orton O'Brien) wonders through the 100-Acre Woods creating a highlight reel from the original animated feature.
The CG-version of Pooh and pals is absolutely gorgeous. They use the original A.A. Milne drawings as inspiration for the stuff animals. The act of walking, sitting, falling, etc. blends seamlessly with the forest environment. It all looks and feels the way I imagined my toys coming to life. So much so, it makes Toy Story look like a cheap flip book. Joining Christopher Robin's adventure is Winnie the Pooh (Jim Cummings), Piglet (Nick Mohammed), Eeyore (Brad Garrett), Rabbit (Peter Capaldi), Owl (Toby Jones), Tigger (Jim Cummings), Kanga (Sophie Okonedo) and Roo (Sara Sheen).
"…Robin has become a workaholic…but can't find any time to be with his wife and daughter."
The film's prologue ends with Christopher Robin saying goodbye forever to Pooh, just before being shipped off to boarding school. Robin quickly grows into a man (Ewan McGregor), meets his future wife Evelyn (Hayley Atwell), and leaves a pregnant Evelyn to fight in World War II. After years on the front, a discharged Christopher Robin returns to meet for the first time his daughter, Madeline (Bronte Carmichael).
At the war's end, finding work is not easy, especially for returning veterans. Fortunately, Christopher Robin is the head of the efficiency department for the corporate Winslow Luggage. Here's where the Mary Poppins storyline comes into play. Robin has become a workaholic. He works hard and for long hours providing for his family, but he can't find any time to be with his wife and daughter. According to his boss, Giles Winslow (Mark Gatiss), Winslow Luggage is the worst performing department at Winslow Enterprises. Robin must skip his family weekend to figure out how to reduce expenses by twenty percent.
The family doesn't take the news well, and Evelyn leaves Christopher Robin behind. Madeline is starting to build an emotional wall with her father. And the Banks children start hanging out on rooftops with chimney sweeps.
When Evelyn and Madeline leave for the country, Madeline leaves a picture that Christopher Robin drew long ago of him and Pooh. Pushing the picture aside, Robin unknowingly spills a jar of honey on the drawing, which magically awakens Winnie the Pooh. Pooh is magically transported to Christopher Robin's city home in London. Pooh needs Robin's help to return to Robin's childhood home (where Evelyn and Madeline are) and help Pooh find his pals.
"…perfectly recreates the spirit and joy of the original Winnie the Pooh."
When mixing reality and fantasy, rules have to be established to explain how the impossible is made possible. As a child, Winnie the Pooh was real in the mind of youth Christopher Robin. As an adult, not only is Pooh a real living and breathing stuffed animal to Christopher Robin, but also to the world at large. Yes, these old beat up stuffed animals are real to everyone and creates an effective running gag throughout.
In the second act, we find Christopher Robin back in the 100-Acre Woods with the entire gang. Director Marc Forster perfectly recreates the spirit and joy of the original Winnie the Pooh. Everything I loved about Winnie the Pooh as a child just came flooding back to me. The ultimate transformation of Christopher Robin (really, are you upset I'm spoiling this?) comes when the busy, complex, adult life of Robin is juxtaposed with the simplistic philosophy (or Tao) of Pooh. Kudos to screenwriters Alex Ross Perry, Tom McCarthy, and Allison Schroeder. And more kudos to director Forster for not only maintaining the slow pace associated with Pooh stories but keeping us engaged and never bored.
Final thoughts. The kid loved it (10/10). Brad Garrett steals the entire movie as Eeyore. Potentially cheesy moments work at pulling the old heartstrings, while never cringe-worthy. And just like Christopher Robin, my stuffed animals had American accents too.
Christopher Robin (2018) Directed by Marc Forster. Written by Alex Ross Perry, Tom McCarthy, Allison Schroeder. Starring Ewan McGregor, Hayley Atwell, Bronte Carmichael, Mark Gatiss, Orton O'Brien, Jim Cummings, Brad Garrett, Nick Mohammed, Peter Capaldi, Sophie Okonedo, Sara Sheen, Toby Jones.
8 out of 10 stars