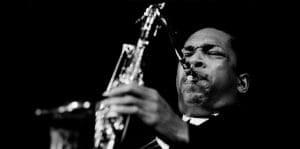 As inspiring as the music of Coltrane itself, Chasing Trane: The John Coltrane Documentary unfolds the life of the galactic saxophonist whose soulful approach to music incessantly spread light, peace, and love into the world.
Coltrane put his life in music, resorting to a unique timbre, accurate technique, and an unshakeable spirituality, delivering quintessential records that still sound modern and bold today. I believe that every true jazz fan was touched in a way or another by the art of this jazz giant whose musical phases encompass bebop, cool jazz, post-bop, and spiritual avant-garde jazz and modal music.
"Don't think the genius had an easy life…"
Music documentarian John Scheinfeld (The U.S. vs. John Lennon; Who Is Harry Nilsson?) dug deep, painting a compelling portrait of the musician with the help of the many personalities connected to him directly and indirectly. His direction embraces a typical structure within the genre, intercalating still photography, video footage, and testimonials of friends, family members, and fellow musicians. The Oscar-nominated actor/director Denzel Washington was the one designated to narrate Coltrane's encouraging words. Scheinfeld doesn't break new ground with his approach and yet, he stands firm and focused on its purpose of chronicle the story with clarity and in a way that becomes accessible to everyone, even those who are not familiar with the saxophonist's ingenious sounds and work.
The interviewees belong to different generations. In addition to Coltrane's stepdaughter and sons, we have devoted admirers from the world of music, like guitarist Carlos Santana, an honorary chair of the Coltrane Home in Dix Hill, and contemporary saxophonist Kamasi Washington, who was strongly influenced by Coltrane's language in his own explosive blend of jazz and soul. Curious was a couple of unexpected (and perhaps redundant) appearances from the former American President Bill Clinton. Still, the most engaging stories derive from Coltrane's fellow musicians back in time – Sonny Rollins, McCoy Tyner, and Jimmy Heath, all of them living jazz legends.
From the film, we learn how Coltrane's background and beliefs influenced his music. In his childhood and adolescence, black music was a response to the trauma and segregation that the black community was exposed to. However, instead of incendiary in words and behavior, he directed all his energy to dashing musical phrasings and patterns.
Don't think the genius had an easy life, though. He was heavily affected by heroin consumption and got fired by Miles Davis and Dizzy Gillespie, whose prestigious quintet and big band, respectively, symbolized the limelight of jazz in the 50s. His desire to become original got compromised for a while, but John had the strength to turn the tables on drugs and innovate in such a way that his ardent prayers were many times misunderstood. The reason is obvious: Coltrane was far ahead of his time. He kept being a huge influence and inspiration for many, not only in music but also in life. His good nature and humbleness were patent when he visited Nagasaki with his new quintet, which included his second wife, the pianist/harpist Alice Coltrane, and prayed for the atomic bomb victims on the Japanese ground zero site.
This film is a beautiful homage to a man who was able to take Giant Steps with A Love Supreme. The final credits rolled at the sound of "Blue Trane" and the shining light of Coltrane impelled me to grab some of his records and embark on a voyage with him to the infinite cosmos of creation.
Chasing Trane: The John Coltrane Documentary (2016) – Written and directed by John Scheinfeld. Starring: Denzel Washington (voice), Sonny Rollins, Jimmy Heath, etc.
8 out of 10