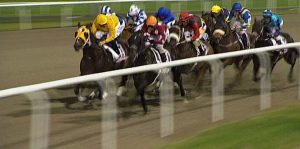 "How good or bad a trainer is, is up to his last winner, no other measurement," says Dennis Sheehy, brother of Patrick Sheehy, an Irish horse owner. He's speaking about Carl O'Callaghan, who trained Sheehy's Dubai World Cup winning horse, Kinsale King.
I must admit that I haven't ever really been too interested in horse racing myself, mainly because I've never wanted to find out if I'm the type of person who could have a gambling problem, and also because I find the sport itself to be a past-time of the rich. However, Chasing The Win is entertaining even to me. The human story behind the competitions is very intriguing.
Carl O'Callaghan gains fame on the horse racing circuit after bringing Kinsale King to his win at the Dubai World Cup. It was within his first year of being a trainer. We find that, as situations such as these go, Carl has a solid team behind him. We hear from the groomer, Carlos Arivalos who refers to Kinsale King as "one of his best friends" and from several of the employees at the stables.
Carl employs 14 people altogether and owns 22 horses, including Kinsale King. He gives all his employees a percentage of the winnings. Half of his staff are Mexican and Latin American immigrants who send the money home to their families outside of the US. So despite my reservations about the horse racing business, it appears as though not all involved are the worst type of rich people.
"…it is much more about the love of the sport and the animals than the money, although it is a welcome bonus."
After Dubai, Kinsale King (who is named after the Sheehy's hometown in Ireland) is invited by Queen Elizabeth to race at Royal Ascot in the Golden Jubilee, which, judging by Patrick Sheehy's almost crying, is a big deal. The Golden Jubilee is part of the Golden Sprint Challenge which is a series of Group 1 Races across five different countries. It features the best horses in the world and a massive bonus. O'Callaghan's goal was to use the success at Dubai to tour Kinsale around the world so that his appearances would demand a ton of money from there on out.
We also discover the history of the Sheehy's, whose family has been in the horse racing profession since the 1940s in Ireland. The Sheehy brothers are some of the only people who go to horse sales and purchase their horses when most other people send agents who specialize in the field on their behalf. For the Sheehy'sit is much more about the love of the sport and the animals than the money, although it is a welcome bonus. 
Dennis is a "banker, so he's good with figures" according to Patrick and has developed a system to pick out Group 1 winning horses based on their genetic pedigree. Kinsale's the most special horse to them, as Patrick is seen tearing up more than once upon the discussion of the horse.
"…a great job to make a film about a very complicated sports appeal to people who might not be interested otherwise…"
"We were sort of playing a rich man's game with nickels and dimes," Patrick says, which makes their wins later on so much more satisfying for someone like me who thinks rich people from old money need to be knocked down a peg or two.
It's great to see O'Callaghan and the Sheehy family at Royal Ascot. They're a team of underdogs dressed up in top hats and fine frippery at one of the most important events of the sport. It is satisfying for the viewer as well as those participating. We also get to love Kinsale just as much as everyone who's met him does. However, Kinsale doesn't win there. This begins a dry spell and makes the Sheehy's question whether or not Carl should still be Kinsale King's trainer.
Essentially, before I reveal the entire plot of the film, directors Chris Ghelfi and Laura Sheehy (Patrick's daughter) do a great job to make a film about a very complicated sports appeal to people who might not be interested otherwise, which is the hallmark of all great documentarians. You get to love the people, and most importantly the beautiful horse that is Kinsale King. Chasing The Win is a heartwarming documentary for animal lovers and those who love a good rags-to-riches story. It's definitely worth a watch!
Chasing The Win (2018) Written and Directed by Chris Ghelfi and Laura Sheehy. Starring Carl O'Callaghan, Patrick Sheehy, Denis Sheehy, Mike Smith, Bob Baffert, David Greaves, Keiren Fallon, Randy Moss, Martin Garcia, Stephen Negler, Patrick A. Cummings, Geoffrey Riddle, Garrett Gomez, Judd Fischer, Nick Luck.
7 out of 10 stars