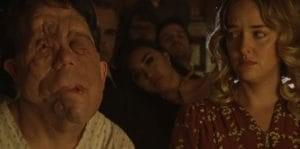 In Chained for Life, written and directed by Aaron Schimberg, a movie set acts as a hunk of pseudo-intellectual debris orbiting around one of those unfortunate human truths: looks matter, until we decide they don't, I suppose. There's a European "auteur" director with a shirt that's unbuttoned one too many times, an actor in love with his own ideas and his ability to express them, a camera guy who really wants to talk about lenses, and a lead actress for whom this is all a stepping-stone to stardom.
The film that's being shot is a sappy "love is blind" story about a beautiful, blind blonde, played by Mabel (Jess Weixler), who falls for a disfigured man named Rosenthal, played by a man without a name of his own, though that man is played by Adam Pearson. Accompanying Rosenthal as extras in the film are a group who—in a different era—might have made their living on the road, in tents, and usually revealed from behind a curtain to the sound of a calliope. There's a dwarf, a bearded woman, a burn victim, a pair of Siamese twins, and a literal half-man, half-woman, just to name a few.
"…a beautiful, blind blonde, played by Mabel, who falls for a disfigured man named Rosenthal…"
With Rosenthal, the classically attractive Mabel, the uncommon extras, and the general murmur around the movie set about appearances (Orson Welles' performance as Othello is brought up by Mable in an interview), Schimberg clearly has something on the mind. It's the way he goes about exploring it that makes Chained for Life so hypnotic because he doesn't really explore it. He prods it, stretches it, and essentially shakes down it down for everything it has. Sometimes, the movie's motives are unclear, such as with an extended scene where Rosenthal is forced by the director to step forth from the shadows again and again until he gets it right. Eventually, Rosenthal questions why he's stepping forth from the shadows when that's an entirely unrealistic thing to do. We know the answer—and Rosenthal probably does, too—but is the exploitation of the entertainment industry really where the movie wants to hang its hat? I wonder, but I don't think so. It's too smart to lean too heavily on such a boring concept, however accurate. Unclear motives aren't so bad, anyway.
"…Schimberg avoids sentimentality like the plague it is. All of the feelings the movie pulls out of you are homegrown…"
While Rosenthal is obviously a sympathetic and likable figure, Schimberg avoids sentimentality like the plague it is. All of the feelings the movie pulls out of you are homegrown—not something you're supposed to feel, but something you can't help but feel. This is particularly true with the movie's sense of humor, and if I haven't made it clear already, this movie is very funny. Many films claim to be fashionably dark or understated, but this one finds its comedy by turning over filthy rocks and peeling back Band-Aids, as opposed to picking it off store shelves, pre-packaged and offensively inoffensive. There's a scene where Max (Stephen Plunkett), an actor in the film's film, invades Rosenthal's personal space, starts talking about himself (he "hates to be seen"), then offers an analysis of Rosenthal, which ends with "guarded?" Rosenthal silently nods throughout and responds to that final question with a shrug, which is, I think, the correct answer. Weixler has nothing but great scenes, though the one where she's completely stoic, sandwiched between a doctor and his student observer, has to be the best.
Toying with the audience's own expectations and predispositions, Schimberg has made a movie that can be confidently called original. Its final moments include two rides, both going home from the shoot, and one far weirder than the other. It's the one you think it is.
Chained for Life (2019) Written and Directed by Aaron Schimberg. Starring Jess Weixler, Adam Pearson, Charlie Korsmo, Sari Lennick, Stephen Plunkett, Joaquina Kalukango, Sammy Mena, Frank Mosley, Eleanore Pienta, Daniel Gilchrist, Avi Glickstein, Miranda Gruss, Rebecca Gruss, William Huntley, John Klacsmann, Sarah Grace Lee, Tiffany Manning, Alison Midstokke, Jennifer Miller, Gina Murdock, Sayra Player, David Regelmann, Diana Tenney. Chained for Life screened at the 2019 BAMcinemaFest.
8 out of 10 stars