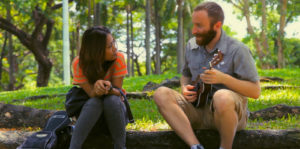 Cautionary Tale, directed by Christopher Zawadzki, is a journey of healing, moving on, and acceptance told through a passionate filmmaking process. Neil (Ted Limpert), a children's television show host, is being sent to Bangkok to market his show to the Asian audience as part of an overseas expansion. But, given the recent loss of Neil's daughter, the man has been rendered disoriented. While Neil agrees to the travel (mostly due to his contract), little does he realize that the trip could alleviate his grief.
Limpert wrote the screenplay and composed the soothing, beautiful melodies. Limpert, a professional composer, has given heart to Neil through these stirring tracks. Introduced as a television host, Neil's interest in music, his skills with different instruments, and his voice all play a crucial part in exploring his grief and unraveling his hidden pain. In his quest to find peace and solace, Neil connects with an aspiring Thai music artist named Cherry (Napak Boonruang). In their attempt to develop an English translation of one of Cherry's originals, the drama crafts an anchoring thesis on music's significance to life. 
What further makes Cautionary Tale a brilliant cinematic experiment are the camera movements. It begins as a cold telling of loss and pain, with Neil confused over his bearing situation. The camera is mostly still, offering perspectives on the lead's mental state from several angles. But, as he traverses Thailand, we see a bunch of crisply edited and wonderful tracking shots engulfing Neil in the landscape and culture. One of the best sequences of the film sees Neil at the Songkran Water Festival. Though it's at the beginning of Neil's journey that this particular sequence comes, it leaves a lasting impression.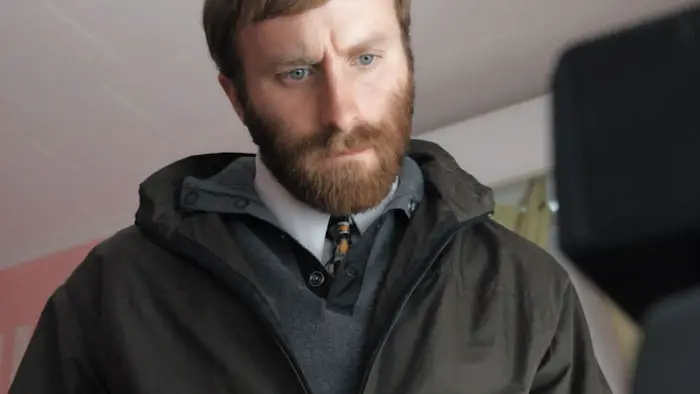 "…sent to Bangkok to market his show…But, given the recent loss of Neil's daughter, the man has been rendered disoriented."
Zawadzki, along with co-cinematographer Filipe Bessa, captures the feeling of a journal or travelogue in intimate detail. Neil's unfathomable grief is profoundly juxtaposed with the scenic beauty of the greener suburbs of Bangkok, essentially establishing the city as a character. Transforming nature as Neil's medium to reflective peace, even sequences of basic conversations feature the vastness of Thai landscapes.
Limpert's chemistry with Boonruang is highly appreciable and heartwarming. Their shared love for music transcends their emotional and mental states, making them one with their surroundings. It's impressive how Cautionary Tale establishes relationships between characters over voice-overs and conversations. Through these casual encounters, we see a gradual change in Neil, learning from other's lives and experiences. Boonruang's character deserved more screen time, however. Given the film's tight production, her character, though crucial, isn't explored, barring a couple of mentions. Hence, at one specific point, her camaraderie with Neil feels unnecessary.
The film is driven by emotions and not plot. The film hardly unravels a dramatic emphasis nor seeks a climactic reveal. It's more about conveying the emotions of a troubled man and encouraging viewers to participate in his voyage. It's a call not to let go of your past hauntings entrap you. The protagonist finds a resolution to his troubles through a spiritual-cum-recreational experience of a different culture and its people. Neil's quest is well documented, and the film's intention is well conveyed through Neil's observations. However, Limpert's performance could resonate better. There are areas where his pain and grief don't come forth with the required intensity, even when it's highly needed. But, at the end of the day, the music compositions and songs work magic.
Cautionary Tale is an independent production. The way it's shot is a testament to the crew's dedication and passion for filmmaking. It's not every day that a film of a relatively low budget can execute shooting schedules and other production preparations at an international location. It has flaws, but they are nowhere glaring enough to affect the intent. The artful cinematography and well-performed music make this a worthwhile watch.
For more information, visit the Cautionary Tale linktr.ee page.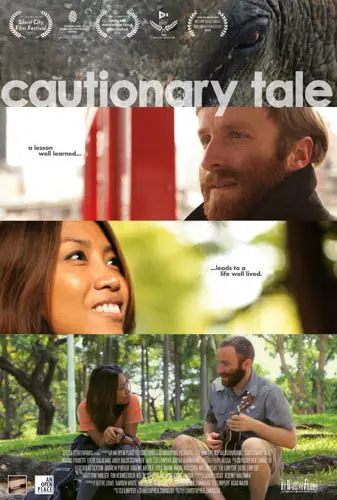 "…artful cinematography and well-performed music..."