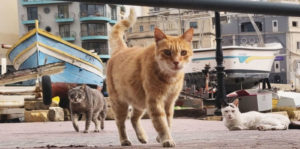 Many members of polite society secretly dream they are off on an island full of kitties. Director Sarah Jayne Portelli lives the dream of strays in the sunshine with Cats of Malta. Shot and edited by Ivan Malekin, the documentary showcases the stray cats on the island of Malta, located off the coast of Sicily, and the community that takes care of them. There's Michelle Deguara and Salvu Gibson, who are from Australia and run a wine bar. They helped a tough three-legged cat survive and live many more happy years as king of the dock. Roza Zammit Salinos maintains a makeshift cat village in the shadows of a development. A young husky boy, Isaac Muscat, spends all his pocket money buying food for the stray cats.
Lots of folks like Malta. I am obsessed with it as it was the shooting location of Popeye and Zoom. Many more people like cats, even William S. Burroughs discovering he liked cats more than heroin. I am obsessed with kittens, too, and always have one near. They relax me and help me pull into the present. So, Cats of Malta called to me like a fat tabby hungry for supper. What a lovely opportunity Portelli offers us to look into all the little furry faces of the Maltese free-range felines. She captures the jaunty arrogance of an outdoor cat that invigorates the senses.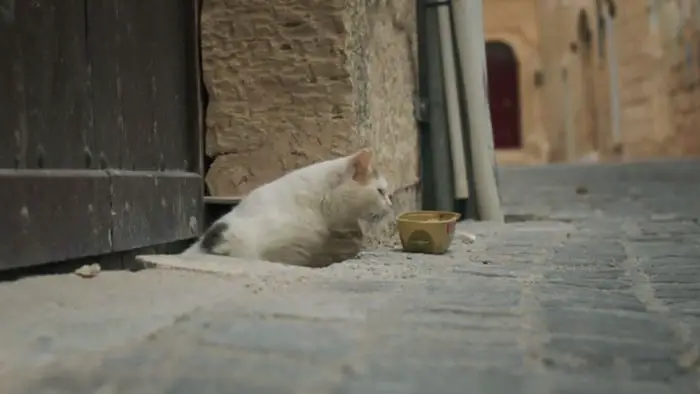 "…showcases the stray cats on the island of Malta…"
Just as lovely are all the friendly people who keep these little fur babies as safe and happy as possible. The devotion on display is more than heartwarming; it will downright charbroil your ventricles. Some people are forked-tongued mean to these poor animals. It is swell that such nice people are there to look after our furry pals. The people visiting the island love to see all its kitty citizens. Malta is so nuts about cats that a giant feline statue on the bay welcomes all. We get to see the figure painted with many vibrant colors, as varied as the sweet little kitties running the streets.
So, as a cat person, I am used to the ups and downs of the feline life. Portelli includes both, though I applaud her restraint from going into the real ugly stuff. I mean, there are hard facts of cat life, especially for the outdoor ones. One of these cats doesn't even have a nose, for St. Pete's sake. So there is some unavoidable bitterness amongst all that long-whiskered sweet.
Seldom is such a minor part of the cosmic fabric such a source of significant inspiration. Helping a stray cat is like a tiny way to help keep the universe from tipping over. Obviously, this will be a mighty potent catnip to cat people everywhere. If you love cats, you are going to love Cats of Malta.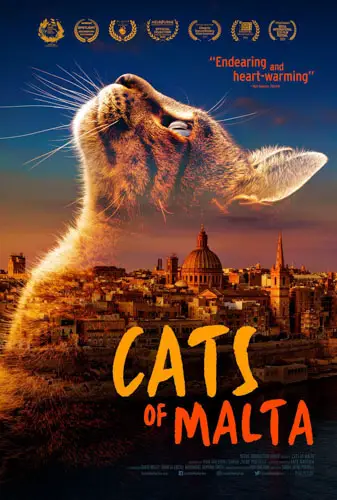 "…mighty potent catnip to cat people everywhere."