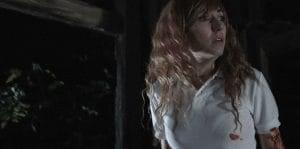 It's no secret that Halloween is upon us. And October is the month I usually watch the "lion's share" of whatever big-budget or indie horror flicks that are released. Not that I'm complaining, since the horror genre is one of my favorites. But that said, it's also the genre that is easily the hardest to watch when done poorly.
And I'm going segway that right into, Camp Killer. A movie about a slasher who kills…. Campers. I would go more into that premise, but in a weird way, it's almost irrelevant. Probably because most of the actual killing is done in the first 15 minutes of the film.
We see a group of clueless, pot-smoking young people, hanging about by the fire, drinking beer, and roasting hot dogs. Then, the nerdiest of the group (all of a sudden) remembers that the very campsite they are set up for the night has a lore about a zombie-like murderer (in the vein of Jason Voorhees) named, David Lightfoot (James Watkins). And as per usual, his friends believe he is either drunk or making up stories.
And as you could easily predict, one of the couples wanders off into woods to have sex. And naturally, they are the first sacrificial lambs for the "avenging killer." Then pretty much all the other characters are killed off in some grotesque way… all except one of course… "the girl who survives to warn others of what happened there." And she survives only because, out of the blue, the sheriff of the town happened to be at the campsite at that exact moment, and puts about 10 bullets in the David Lightfoot.
"…the very campsite they are set up for the night has a lore about a zombie-like murderer…"
Sounds pretty "tropey" right? Well, that's because it was all planned that way.
The sheriff takes the girl into the police station and puts her in a cell for her protection. He then heads to the local bar to have a drink when he joined by no other than… the slasher he just killed. Who also happens to be, the sheriff's brother.
From this point on in the film (and I really use that term loosely), the audience is let in on the gag. That every year, due to a deal with the devil, David gets to kill a bunch tourist, and the sheriff has to put him down, only for David to resurrect moments later.  This cycle has to continue until David has killed 666 souls, then he's free from his curse. But on top of learning this information, we (the audience) have to sit through a very "winking" lesson about the "camp slasher genre" from the brother's conversation as well.
As I'm writing this, I feel like I'm making it sound way cooler than it actually was. Believe me, it's not!
I get that this movie was supposed to be a clever parody (at least that's what I think filmmaker Shawn Jones was going for) of the slasher films of the 80s. But the "Troma-esque" quality of the movie makes this a very rough watch.
"…have a few friends over for a 'bad horror film night' and bring lots of alcohol."
The acting is so cringe-worthy that there were times I felt the temptation to fast-forward through many scenes. I don't know if the "actors" in the film are really just "that bad," or if they were instructed to be terrible for the mood of the film. There were moments where you can actually tell the actors forgot their lines, and somehow it still made it into this movie.
I won't completely destroy the make-up and special effects (though I could) for only one reason: Budget. When I critique any movie the first thing I take into consideration is how much they had to spend to make it. And I get when you are trying to do something that asks for FX, and you don't have millions to drop on it, sometimes it's not going to come out all that well. Having said all of that, it's still pretty bad even for cheap effects.
My only recommendation for Camp Killer is, have a few friends over for a "bad horror film night" and bring lots of alcohol. Otherwise, just remember…time is the only thing you can't get back!
Camp Killer (2016) Directed and Written by Shawn Jones. Starring Jimmyo Burril, Melissa LaMartina, April Monique Burril, and James Watkins
3 OUT OF 10