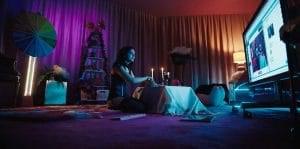 For the past 12 years, Blumhouse Productions has been on a wild tear through the horror community, making such hit films as Paranormal Activity (and its sequels), The Purge (and its sequels, and it's television show), Insidious (and it's…you get the point), Get Out, BlacKkKlansman, Creep, and Creep 2 as well as backing the much anticipated Halloween sequel. So when a film has the Blumhouse name on it, there's a good chance that it will definitely be worth watching, if not groundbreaking.
While Cam doesn't necessarily fit into the latter category, it definitely gives revival to one of the most hilariously satisfying genres of film that had the most success in the 80's and 90's, the "erotic thriller." Cam definitely has some straight up horror elements, but if anything, it's a mystery taking place in the wilds of cyberspace.
Alice, or her screen name, Lola, is a pretty successful "cam girl" for the website "FREEGIRLS.LIVE", a pretty standard webcam chat room site (or what I imagine one would look like). She does pretty much whatever her loyal followers request (within reason) and gets tipped in "coins" that turn into real money in her bank account. She is doing pretty well, she just rented her own house in the same town her mother and brother live. Her brother, Jordan, who's 17, knows what she does, but her mother definitely doesn't.
"Someone who looks exactly like Lola has taken over her account and is doing her shows…"
Lola's primary goal on the website is to be the #1 girl on the site, but first, she needs to make it into the top 50. She's done all sorts of strange performances, including faking a suicide with a prop knife. The men who watch love it all. Then one evening, when her show goes live, she breaks the top 50, until her rival PrincessX says that she will go topless (which she usually doesn't do) if Lola goes down 10 points in the ranking.
After this, she decides to do a group show at the "CamGirl Clubhouse" with her friend/coworker Fox. The Camgirl Clubhouse is a site to behold, containing rooms upon rooms of girls who live in the house and do their cam work in their separate quarters. There's also a pool table, a karaoke room, and all sorts of other insanity. I'm curious if the actual dwellings of real live "cam girls" are like this or what, but moving on. The group show with Foxx is successful. She gets back up in the ranks, but then the next day she's unable to log in to the website. Not to mention, one of her MOST loyal fans, Tinker, or Arnold, is seen following her in the grocery store.
"…gives revival to one of the most hilariously satisfying genres of film…the erotic thriller."
This is where things start to get weirder. Someone who looks exactly like Lola has taken over her account and is doing her shows, in what appears to be her house. Except it definitely isn't her because she can watch the shows, and they're verifiably not recorded because she's able to message in the chat room…to herself. She starts to get scared and spends the rest of the film attempting to find out what's going on, to a very clever and interesting result.
Cam is a movie about sex workers and sex that doesn't glamorize, glorify, or romanticize the profession, and it doesn't look down upon it either. It is seen from an objective lens which is very refreshing in a world where the "hooker with a heart of gold" and "junkie stripper" tropes have been worn paper-thin. Alice/Lola is a smart, ambitious person who loves her family and is good at what she does. It's as simple as that, and to have her livelihood and life threatened by a doppelganger who will do things she doesn't is infuriating to her.
The set design on this movie is gorgeous, using neons and lush textures to show the faux opulence that being a camgirl can afford. The script is incredibly smart and so is the acting. It's an altogether solid thriller with some fascinating sci-fi/supernatural aspects. All in all, I'd say it's another win for Blumhouse, although it's (definitely) not their best output this year. Still, if you like horror films, it's definitely worth seeing.
Cam Directed by Daniel Goldhaber, Written by Isa Mazzei (Story by Daniel Goldhaber). Starring Madeline Brewer, Patch Darragh, Melora Walters, Devin Druid, Imani Hakim, Michael Dempsey, Flora Diaz, Samantha Robinson. Cam screened at the 2018 Brooklyn Horror Film Fest.
7 Out of 10 Stars