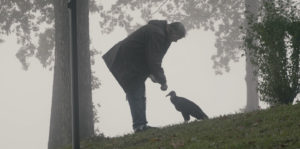 Jonathan Sutak's Broken Wings is a decidedly unique documentary about Jayne Lakhani. She's a tenderhearted waitress who dedicates a large portion of her time and money to taking care of a one-winged vulture named Adonis. It is unclear if Lakhani or Adonis is the primary subject. Either way, their strange journey as a woman and bird duo is fascinating to observe.
Vultures are known for consuming the dead. Be that as it may, Adonis has inspired and surprised the entire community of Hot Springs, Arkansas. Everybody here knows about the bird who can't fly and, in turn, can't find any food. But, he's able to live a relatively fulfilling life thanks to Lakhani, who spends $100 a week on groceries for him. She always had a kind heart as she cared for wounded birds as a child and went on to work with amputees. Lakhani even took in a homeless woman who later became her roommate.
Lakhani can't explain her fascination with Adonis. She says, "He's an ugly, old one-winged vulture. My mind's crippled, I guess." However, what matters most is that she cares deeply about Adonis and his well-being. Lakhani taught Adonis not to cross the street, which is indicative of the bird's intelligence and her devotion. But caring for a bird that is unable to fly comes with many obstacles. Feeding a vulture is not cheap, and Lakhani is trying her best to make ends meet. When Adonis' safety is threatened in the forest, Lakhani brings him home, at the risk of being evicted.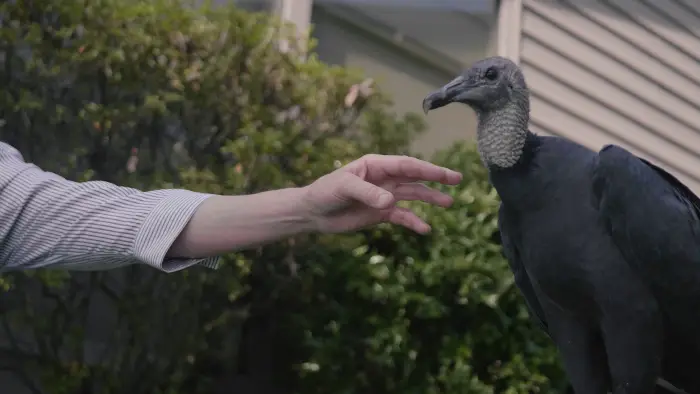 "…caring for a bird that is unable to fly comes with many obstacles."
Sutak interviews members of the community throughout Broken Wings to provide more information about Lakhani's empathetic character. They also talk about Adonis and how much everyone has come to admire the vulture. However, these sparse interviews are pretty vague in regard to who's speaking and the kind of insight they might have. Fortunately, the filmmaker retains most of the focus on Lakhani and her friendship with Adonis.
For a 56-minute documentary, Sutak manages to explore everything one should know about the odd pair. He does this while maintaining a generally lighthearted, albeit quirky tone. Sutak's editing and cinematography are on point, yielding beautiful wide shots of Adonis as he wanders around happily alongside Lakhani. In addition, the director ensures that the bird is not portrayed as a menace in the community.
Lakhani and Adonis are more alike than different. Adonis has been struck with tragedy by losing the use of his wing. Similarly, Lakhani has endured her fair share of grief. However, since the community recognizes Adonis, they accept Lakhani as well. Truthfully, we all have a part of us that's broken to a certain extent, but we can transcend anguish. In short, Broken Wings is a heartwarming tale of acceptance and kindness.
Broken Wings premieres on PBS on May 16, 2022.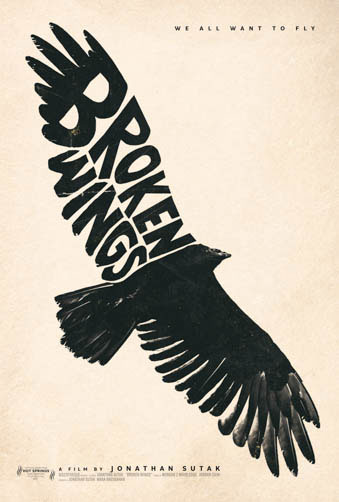 "…a heartwarming tale of acceptance and kindness."