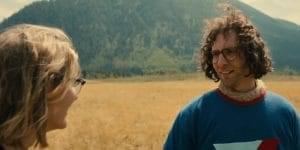 Directed by Dave McCary, Brigsby Bear is a dramedy blended with the aesthetic of an 80's children's TV program. I've never seen anything like this. This was a fantastic movie that had a very small, and very short theatrical release. It just kind of went under a lot of people's radars and vanished into the ether. The teaser trailer sucked me in, and I was looking forward to checking it out as soon as I could. The movie released theatrically in late July, and I missed it because the closest theater playing the movie was too far from where I live. It came out on Blu-Ray in November and I bought it, but it sat on my watch pile for almost an entire month. After finally watching it I'm kicking myself for not making the time and trip to see this on a big screen, it would have been more than worth it.
"The script is full of fantastic, touching, and wonderfully hilarious moments…"
All you need to know about Brigsby Bear is that it's about a man named James (played fantastically by Kyle Mooney, who also co-wrote the screenplay). James has lived a, shall we say, sheltered life. His one constant is a TV show called Brigsby Bear Adventures.  He lives with his parents, Ted (played by Mark Hamill, who also provides the voices of Brigsby and his nemesis Sun Snatcher) and April (Jane Adams) who are a warm, sweet, yet undeniably off couple who keep young James very closed off from the rest of the world. When James is set loose into the world, he finds out that Brigsby Bear Adventures is a TV show only he has seen, and he sets off to finish the story by himself and a group of new friends who are enamored by his odd demeanor and the shows charmingly quaint lore. There's way more to the story than this, it has one of the darkest and most twisted reveals I've ever that I wouldn't dare spoil for anybody. The charm comes from James and his interaction with the world he's been cut off from. He meets some relatives he's never met and his relationship with them is peculiar at first, but it's a heartfelt journey to see it develop. I especially loved the tension he had with the characters of Greg and Louise (played by Matt Walsh and Michaela Watkins), with Greg, in particular, being a highlight for me. It was great seeing him try to be accepting of James' eccentricities and quirks, but increasingly becoming frustrated with his lack of social graces and his obsession with finishing the Brigsby tapes. Ryan Simpkins plays Aubrey, their daughter, who is at first annoyed and unwelcoming, but eventually, she forms a strong bond with James too.
"…a great cast, a magnificent lead, and a premise that oozes with charm and originality."
James makes friends with Spencer (played by Jorge Lendeborg Jr.), a patient, a kind-hearted nerdy stoner who helps him film his Brigsby movie. Their interaction is one of the best parts of the movie for me. It's fun to see how similar they are in a lot of ways, and how quick he takes a liking to the Brigsby universe. Everyone else treats James like an alien due to his predicament, and Spencer accepts him and his weirdness with almost no hesitation. Greg Kinnear is great in his role as Detective Vogel, a cop assigned to James case that has a secret desire to return to his acting career. Clare Danes shows up as a psychiatrist, and really her role is the only one that bothered me. She's way too harsh and mean-spirited to be good at her job. It was an odd choice, but I blame it on the script and not on Danes, who can be amazing in other things she's cast in. Andy Samberg and Kate Lyn Sheil have small roles here too. Samberg's part is played for laughs, while Sheil has a heartbreaking scene towards the end with Kyle Mooney that showcases both of their undeniable talents. The script is full of fantastic, touching, and wonderfully hilarious moments that all of the actors flawlessly pull off.
The look of the film is unique and phenomenal. It harkens back to the days of the Chuck E. Cheese animatronics and Teddy Ruxpin dolls I personally grew up with. We see glimpses of some of the Brigsby tapes and it looks like something that definitely could have been around back then, but there's a darkness to them that makes them feel fractionally nightmarish. I rarely get to talk about bonus features, because most of the films I review come from links or are screened in theaters, but I loved that there was an entire episode of Brigsby you could watch in its entirety. Don't miss out on enjoying that, it feels so authentic with its music, the characters and outlandish mythology, and the VHS tracking lines and audio stutters. More people should be talking about Brigsby Bear, it's such a well-made film with a great cast, a magnificent lead, and a premise that oozes with charm and originality. If you want to simplistically boil down the story to its essence, it's about gaining acceptance, and making silly movies with the people you love, but there's so much more to it than that. Don't miss out on this movie; it's definitely one of my favorites of the year.
Brigsby Bear (2017) Directed by: Dave McCary. Written by: Kyle Mooney and Kevin Costello. Starring: Kyle Mooney, Mark Hamill, Matt Walsh, Jorge Lendeborg Jr., Ryan Simpkins, Greg Kinnear, Michaela Watkins, Kate Lyn Sheil, Alexa Demie.
9 out of 10