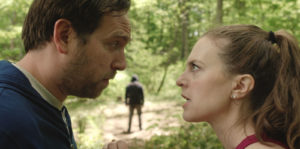 AWARD THIS 2023 NOMINEE! Dane Elcar makes several wise moves with his feature-length debut, Brightwood. First, the writer-director strips away the need for a large cast, focusing his science fiction-horror tale on just two people. Secondly, he films during the day, making the most of the free, natural light the sun provides. Finally, the filmmaker keeps the runtime at a tight 84 minutes. Are all these intelligent techniques in service of a worthy story?
Husband and wife Dan (Max Woertendyke) and Jen (Dana Berger) are out for a run. She's pissed as he made an a*s of himself the night before. Dan is trying to defend himself, though Jen remains mad that his stupid antics mired her promotion celebration. Jen decides to keep running to a specific trail in the woods. Dan wants to continue their conversation, so he reluctantly follows.
However, once in the forest, the trial is elusive. Soon, invisible entities are tripping the duo while they seem to be running in circles, crossing the same "No Swimming" sign again and again. These things begin to freak out Jen and Dan, though even freakier is the stranger in a dirty hoodie who seems to be ignoring the two. Is the married couple merely lost, or is something supernatural happening?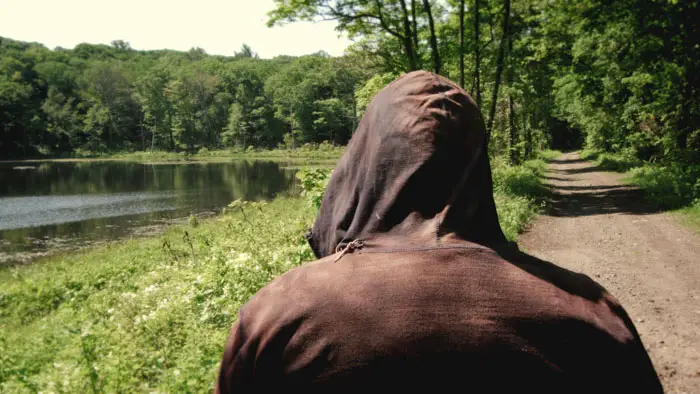 "…seem to be running in circles, crossing the same 'No Swimming' sign again and again…"
Elcar succinctly sets up the feud between the only two characters in the beginning, thanks to sharp writing. Then the mystery of Brightwood is slowly introduced as the first few off encounters are easily explained away. In this manner, the filmmaker showcases a command of structure and writing that is remarkable, given he's only made four shorts prior to this.
The directing is as stylish as the writing is clever. Jen and Dan might be circling through the forest, but the film never seems to retrace its steps. When certain scenes play out from a different vantage point, those sequences take on a whole different vibe. This shows that the director understands the tone, allowing him to keep the tension high from beginning to end.
Berger is believably angry at the start. As events get odder and odder, she goes from frustrated to confused to scared with ease. Woertendyke's pleas and defenses of his character's actions work toward building a flawed but relatable person.
Brightwood rocks from beginning to end. The screenplay twists and turns and bends like all the best thrillers do. The direction maintains the mystery all the way through the surprising finale. The two actors are great and play off each other nicely. Elcar's first feature-length film is one of the year's best.
For more information about Brightwood, visit its Cinephobia Releasing page. Brightwood is a 2023 Award This! Indie Horror nominee.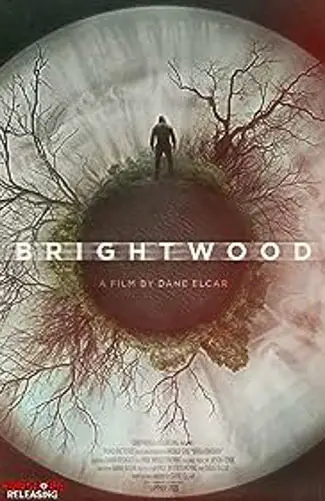 "…one of the year's best."