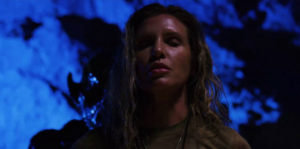 If this is meant to be a look at how society and rules are tossed as the world crumbles, it fails. It fails because these people and their way of life are not the focus. They only come into view when the soldiers are there, minus one, maybe two scenes. As such, their blasé attitude toward Sarah's well-being is more confounding and frustrating than an intriguing examination of humanity's depravity in the face of unimaginable horror. Yes, zombie flicks such as Bridge Of The Doomed require some characters to be human fodder. But there's a line between one-dimensional body count filler and taking viewers out of the story with head-scratching behavior. The execution of these people is so bloody bad that 1) I am cussing in this review, something I tend not to do often, and 2) their inclusion brings the entire production down a full grade.
But, impressively, director Su still delivers a rip-roaring shoot'em-up filled with blood and guts. The movie moves at a whiz-bang pace, only losing momentum when the aforementioned unnecessary subplot pops up. The action is aplenty and very exciting at every turn. Eric Chase's editing perfectly captures the chaotic nature of a zombie uprising while never being too confusing to follow. On top of that, the zombie and gore effects rival big studio films. Eric Yoder and Jenny Oxier-Hespelt and their team have truly outdone themselves with some jaw-dropping make-up.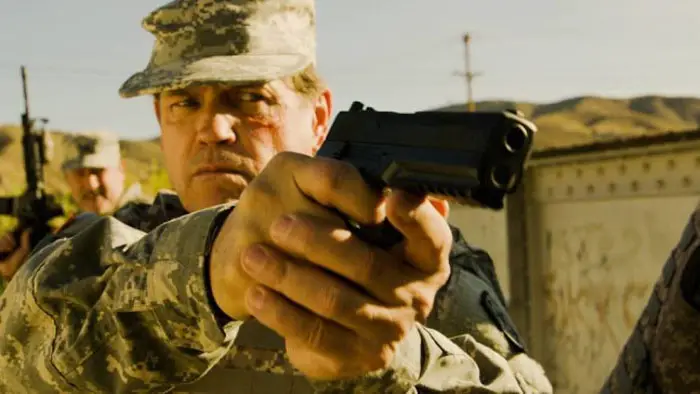 "…this is Kate Watson's show. She is stunning…"
The cast is the most important reason Bridge Of The Doomed works despite iffy writing at times. Robert LaSardo plays General Vasquez and is excellent in his too-brief role. Michael Paré also rules in his supporting part, bringing that hard-edged gravitas he is known for. But really, this is Kate Watson's show. She is stunning as the lead, bringing both warmth (when talking to Susan) and seriousness to the role. Watson handles the action with conviction and is due much bigger success in the near future.
Bridge Of The Doomed has some serious story and plot issues that really hamper the proceedings. But thanks to kinetic directing, exciting editing, and great zombie effects, the film still works. Now add in the tremendous cast, led by a stunning Kate Watson, and one has a film that works much more often than not.
For more information, visit the Bridge Of The Doomed Facebook page.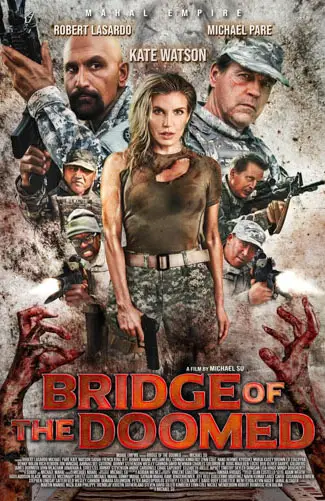 "…works much more often than not."