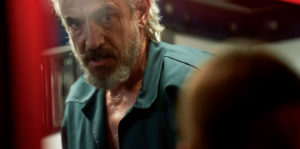 CINEQUEST FILM FESTIVAL 2023 REVIEW! The lines separating loyalty and rectitude from deception and culpability are blurred in writer-director James Rowe's engaging rural thriller, Breakwater. A young and amiable ex-con named Dovey (Darren Mann) makes the mistake of dredging up the past, setting off a chain of events.
The thriller opens forebodingly on a seashore amid a stormy night. Raging water collides with land, rocks, and a mast from a ship lost at sea. A fade-in match cut makes the transition from this oceanic setting to inside a prison all the smoother. The camera zooms out of a coffee cup belonging to the gruff and collected Ray (Dermot Mulroney) as he puts aspirin into his coffee for a back injury; at least, that's what he tells Dovey, his young confidant in prison. Ray shows Dovey a newspaper detailing the discovery of a mast from a long-lost ship off the Outer Banks. The connection here is that within the picture of the discovery stands his daughter, whom Ray hasn't seen for seven years.
Since Dovey is about to be released, Ray asks him to check on his daughter to see if she's content. Dovey returns to live with his father, who is adamant that his son never deserved to be locked up. He must frequently check in with his parole officer (Sonja Sohn), but Dovey takes a risk and leaves town to locate Ray's daughter. Having changed her name to Eve (Alyssa Goss), she lives a quiet life running a cozy bookstore.
The opening of Breakwater presents Ray as a friendly and unruffled inmate, but he has an enigmatic quality. Performed nonchalantly by Mulroney, Ray often gives the impression of being a more comminatory and pricklier figure in disguise. What happened between Ray and Eve? Why did she change her name? Through Mulroney's wonderfully conceived performance, Ray's presence is always looming over the characters, regardless of whether Ray's intentions are good or bad.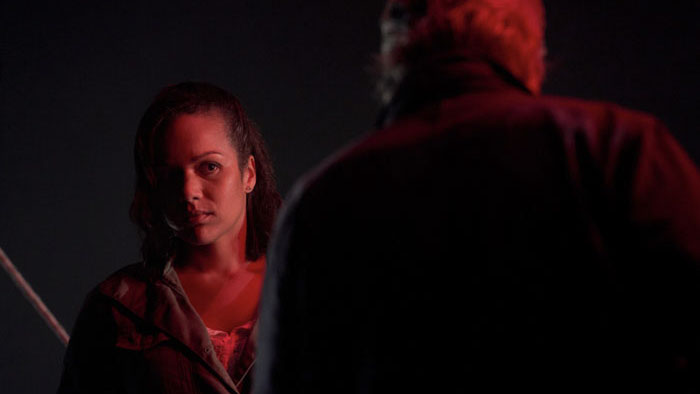 "…Dovey takes a risk and leaves town to locate Ray's daughter."
Fresh out of prison, Dovey observes four men playing pool at a bar and senses a fight brewing between them, illustrating that prison has made him more observant. But memories of being inside still haunt him. He remembers walking with Ray and seeing a man savagely beat another man. "You don't want to be a witness," Ray tells Dovey. While Dovey is no longer a prisoner, he becomes a witness, perhaps even a participant, in Ray and Eve's predicament.
When Ray, or even Eve, reveals details about their past, you can't fully trust either of them. For most of Breakwater, the filmmaker shrouds Ray and Eve's relationship in mystery, upholding the tension well enough until the denouement. Mann acts believably as this naïve and soft-spoken protagonist, softly depicting the confusion of being told one thing and then another. We're told throughout that Dovey didn't deserve the sentence given to him, even when he takes responsibility in a manner that makes sense to their character.
Dovey can't keep himself from talking to Eve, and the two quickly get along. While Mann and Goss deliver marvelous performances, their scenes together don't always gel. Most glaring is a scene where Dovey jumps into the water to retrieve Eve's bracelet given to her by her father. So consequently, their interactions don't always flow naturally.
The tranquility of small-town life, characterized here by homely bookstores, quaint diners, and gorgeous lighthouses, lures you in. But Rowe efficiently accelerates the suspense as Dovey is torn by what is truth and fiction. A charismatic cast and an enticing mystery make Breakwater an entertaining picturesque thriller about addressing the past, taking accountability, or eluding both altogether.
Breakwater screened at the 2023 Cinequest Film Festival.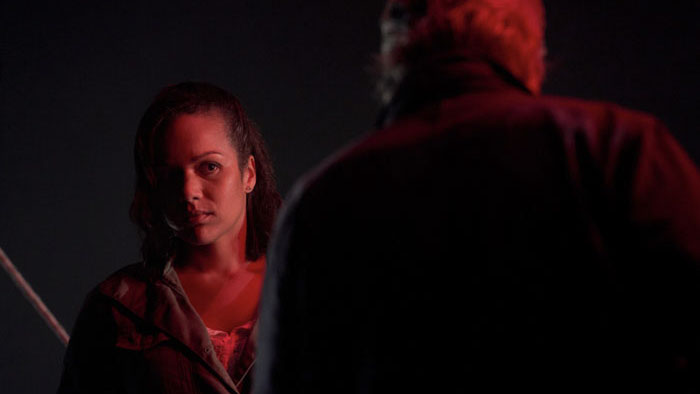 "…an entertaining picturesque thriller..."